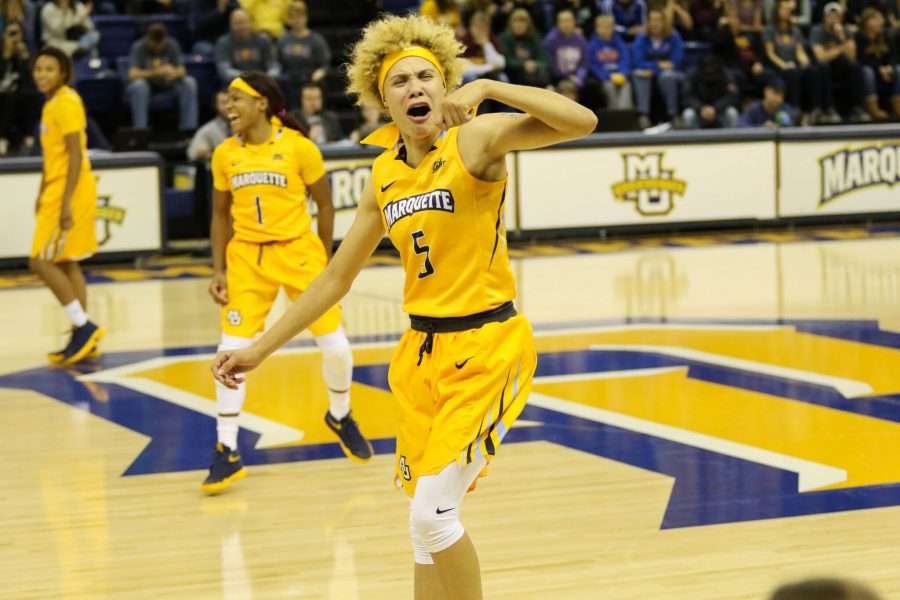 Brian Georgeson
In the press room following Marquette women's basketball's 75-63 win over No. 18 Arizona State, head coach Carolyn Kieger requested a new final stats sheet. The one she had been holding had been all crumpled up.
"I got too excited," Kieger said with a smile.
Kieger's excitement is understandable. It was the first time since February 2015 that the Golden Eagles beat a ranked opponent and, furthermore, this win showed the experience that Kieger's team has gained in just a year, as they fell 90-80 to the Sun Devils one year ago.
"We said before the game that we remembered how we felt in the locker room last year. They were bigger than us; they were stronger than us and more physical. We made a pact in the locker room a year ago that we were going to work our tails off in the weight room and get stronger and faster and it showed tonight," Kieger said. "I'm just extremely proud of my team, my players and my staff. It was fun."
The experience really showed in the fourth quarter. Entering the period, the Golden Eagles were up 50-44 and had only outscored Arizona State by one point in the third quarter. When the quarter began, the Sun Devils quickly shrunk the Marquette lead to just one with a three-pointer from Robbi Ryan, who led her team with 19 points. The momentum shifted quickly, however, when Natisha Hiedeman hit one of her five three pointers to reenergize her team and the entire crowd. Following that shot, Amani Wilborn converted an and-one opportunity to keep the everyone engaged. Marquette closed out the game on a 18-8 run that included the Golden Eagles converting all of their final nine shots.
"You know what is funny is I can actually say experience," joked Kieger when asked what was the the key to the fourth quarter. "Our freshman gained so much valuable minutes last year and I think those close games down the stretch last year really helped out. So now they have composure and they can look at each other in huddles and know that they have confidence in each other and that they have been here before."
Hiedman also played a critical role in Marquette getting off to a good start. She hit three 3-pointers in the first quarter, which gave the Golden Eagles a 21-18 lead.
"We were saying in the locker room that Natisha has been extremely hot for the last two weeks and I'm glad it paid off in a game," Kieger said. "'Cause we have been seeing her shoot like that in practice for the last two weeks and it has been special to watch, but now the fans got to see it, so I think her teammates even got more pumped up because they knew it was coming. They knew she was going to have a breakout game and thankfully it was today."
Hiedman would finish the game going five-for-eight from beyond the arc and for a team-high 23 points.
Arizona State had a significant height advantage over Marquette, but the Golden Eagles didn't allow that to affect their offense, as they used a balanced offensive attack to take a 33-28 lead into halftime.
"Attack them," Kieger said about the strategy to deal with ASU's height. "Attack them on offense, attack them off ball screens, get them out of the paint. On defense we wanted to make sure we had help on the low side and just smother the ball. I think they did a fantastic job of helping from the low side."
The Golden Eagles also made sure the height advantage wasn't an issue on defense.
"First half they had 28 points, I think," Keiger said. "That's the best our defense has looked in the last two years. Obviously, we have to fix the offensive rebounds, but we knew they were going to be bigger, we knew we had to do it by committee. But if we can play like that we know our offense is very high level, we just got to keep getting better on the defensive end and we'll be a tough team to play."
In the third quarter, Arizona State kept the game close, but Marquette never gave up the lead. The Golden Eagles would end up holding a lead for 35 minutes of the contest.
Marquette will head out to Oregon to take on No. 24 Oregon State on Tuesday.