Milwaukee County Clerk to retire after eight years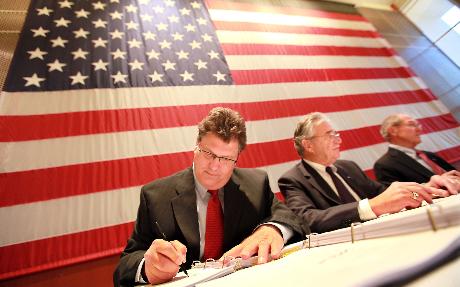 Hang on for a minute...we're trying to find some more stories you might like.
Milwaukee County Clerk Joseph "Joe" Czarnezki did not seek reelection this fall. He decided to retire from the job after eight years.
Czarnezki said its been an honor to serve the people of Milwaukee County. "I'm very proud to have been part of a lot of positive transformations in the office of the county clerk," Czarnezki said.  "I think I've accomplished a great deal."
Czarnezki helped lead a reform to purchase new voting equipment for all 19 Milwaukee municipalities. The Nov. 9 elections were the first presidential election in which the new voting equipment was used.
"Now everywhere in Milwaukee County will be using the same voting equipment," Czarnezki said. "Milwaukee County partnered with the municipalities to jointly purchase that equipment and the county has taken over the programming of the voting machines."
Czarnezki said the new equipment is saving the taxpayers hundreds of thousands of dollars each election.
Julietta Henry, the Milwaukee County Elections Director, said the new voting equipment saves money by eliminating the need for an outside company to help with polling the election.
"Now, our staff polls the election, along with staff from the City of Milwaukee," Henry said. "This year alone, we've saved $464,839."
Presidential elections are always challenging because of the high turnout of people, Czarnezki said. This is also the first election in which a new voter ID law is in place. Wisconsin voters must show a driver's license, passport, or other form of photo identification to vote. Czarnezki said he worries the new law caused confusion for voters, causing a reduced turnout.
"I'm not a big fan of the voter photo ID law, I think it's a solution in search of a problem," Czarnezki said. "I'm not aware of a single documented case anywhere in the state of Wisconsin of voter impersonation. I think we ought to be making it easier for people to vote instead of making it harder to vote."
One group the new photo ID law affected were college students.
"Students not only need to show your college or university ID, you also need to show proof of enrollment in order to vote," Czarnezki said. "The new voter photo ID law is making it harder for college students to vote."
One of the responsibilities of the county clerk is issuing marriage licenses. After the Supreme Court declared same-sex marriage legal in all 50 states, the clerk's office took steps to adapt its marriage license policies.
"I issued the first same sex marriage license in the state of Wisconsin," Czarnezki said. "I also led the way to develop gender neutral forms in order to fully implement marriage equality in the state of Wisconsin."
Czarnezki said the challenges the county clerk faces are the same challenges many other elected officials face, trying to do more with less.
"The public wants more services from government, but they still want lower taxes," Czarnezki said. "My goal has always been to try to deliver the highest quality services at the lowest cost to the taxpayers."
Michelle Nate, the Deputy Comptroller of Milwaukee County, worked with Czarnezki earlier in her career at Milwaukee's Department of Administration. She said that he always showed good leadership traits.
 "He is knowledgeable, ethical, and a real professional," Nate said.
Czarnezki said he enjoyed being county clerk because it required teamwork and interaction with the public.
"My staff has been outstanding," Czarnezki said. "Also, working with the members of the county board, the county executive, our county employees, my fellow constitutional officers and the people of Milwaukee County has been wonderful. That's probably been the most rewarding part of the job, being able to work with and meet so many wonderful people."