Solving Fischer's foul troubles crucial for MU
Last season, Marquette men's basketball ranked eighth in the BIG EAST in rebounding margin. The Golden Eagles also ranked ninth in offensive boards per game. Then they lost 6-foot-10 Henry Ellenson, the team's leading rebounder, to the NBA Draft.
"(Henry) was such a good component to both of our games," senior Luke Fischer said. "We really fed off of each other."
Marquette's additions over the offseason: a 5-foot-11 guard, a 6-foot-5 forward, a 6-foot-6 guard, and a 6-foot-7 guard/forward. That leaves head coach Steve Wojciechowski with only two players listed above 6-foot-8 on the roster. One of them, Matt Heldt, averaged just 5.1 minutes per game last season and that number dipped down to 3.7 minutes per game once conference play started.
The Golden Eagles also struggled on the defensive side of the ball last year. They surrendered 74.2 points per game, third worst in the BIG EAST. The team's best rebounder, Ellenson, was also the team's best rim protector. The Rice Lake, Wisconsin native ranked ninth in the conference in block percentage (4.8 percent) according to KenPom, first on the team. His 7-foot-2 wingspan allowed him to cause problems for wing players as well.
"The biggest holes that Henry leaves our team is rebounding and rim protection, by far," head coach Steve Wojciechowski said. "We have to figure out how we replace those double figure rebounds."
Don't forget that Ellenson was also Marquette's most lethal scorer. The standout freshman led the team with 17.0 points per game.
So how do you replace Ellenson's rebounding, offensive and defensive production from last season? Well, it is certainly going to take a multitude of players. However, the burden falls heavily on Fischer. Just ask the head coach.
"We need Luke, without question, to have the best year that he's had as a college basketball player in terms of his production, especially from a rebounding standpoint. He's been an efficient scorer, we need him to rebound the basketball for our team at a higher level," Wojciechowski said.
Fischer is going to be a critical component to the 2016-'17 team. As a junior last season, the Germantown, Wisconsin native averaged 12.1 points per game, good for second on the team. He also was second on the team in rebounding, averaging 6.7 per game.
If Marquette wants to improve upon their 20-13 overall record and 8-10 record in the BIG EAST, Fischer is going to have be more consistent.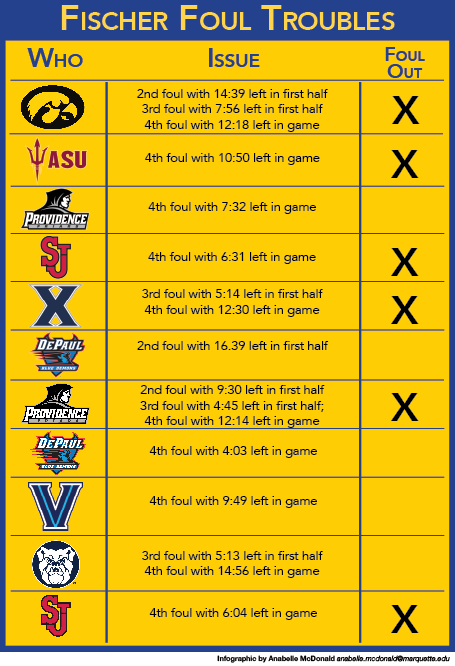 The first, and most important part of Fischer's game that must improve is his discipline. In order to be a dominant center he has to be on the floor, which means avoiding foul trouble, a task that proved too much for him at times last season.
"I just got to be smarter. You kind of got to know how the refs are calling the game," Fischer said.
Even though the foul issues weren't entirely his fault, a portion of the blame must be placed on the center. Fischer averaged 2.9 fouls per game last season, and he led the team in disqualifications with six. In 2014-'15, he also led the team in fouls and disqualifications even though he missed eight games due to transfer restrictions.
"Luke is going to be a key piece to our team, so him being in foul trouble definitely puts our team at a disadvantage," Sandy Cohen said.
"Big Fishy" missed significant portions of games due to foul troubles. In 32 games last season, he picked up his third foul in the first half four times, and all four instances were before the four minute mark.
"Some of those games I was getting hot at certain points, and would end up with my second or third by the end of the first half, and that just crushes your momentum," Fischer said.
When Fischer picks up his third foul before halftime, he loses much of his value as a player on both sides of the ball. According to statistical analyst Ken Pomeroy, "three-foul starters play it tentatively for roughly the first 10-12 minutes of the second half." Essentially, when Fischer in foul trouble, he is going to play more conservatively. When Fischer plays more conservatively, he is less likely to make a defensive impact.
"Luke has to be able to play hard and smart without fouling and guys can do that," Wojciechowski said. "I've coached guys who are terrific defenders, play incredibly hard on the defensive end, but also have the IQ and recognition when to back off at times."
He is also less likely to attack the glass for fear of picking up another foul. It's only natural for players to go into self-preservation mode. Athletes want to be out on the floor in the closing minutes of the game, giving their all for their teammates, so it makes sense for a player to try and preserve himself.
However, this can lead to bad minutes. If Fischer is on the floor with three fouls, is he hurting or helping his team?
An even worse scenario is when the center has four fouls. As a junior last season, Fischer picked up his fourth foul eight times before the final six minutes of the game. That puts Fischer at a huge competitive disadvantage. One mistake and he has to watch the rest of the game from the bench. Having that reality hang over your head cannot be an easy thing to deal with.
"I feel like last year I made some boneheaded moves with being in foul trouble and stuff like that," Fischer said. "This year I just got to play it smart and know that giving up some points is more important than staying on the floor."
Fischer's value to his team diminishes with every foul. If he is able to play freely, the center can be an efficient offensive force that can protect the rim on the other side of the court as well.
"Luke has all the tangibles, the talent," redshirt junior Duane Wilson said. "Luke just has to come with it every game and that's my expectation for Luke is to get 20 and 10, 15 and 10 every game, a double-double. There's no way that he shouldn't be getting that. Luke is dominant."
If he is in foul trouble, the senior will have to adjust his game. He will have to be more cautious and less aggressive – two traits no coach would like to see out of the biggest guy on their roster.
Leave a Comment