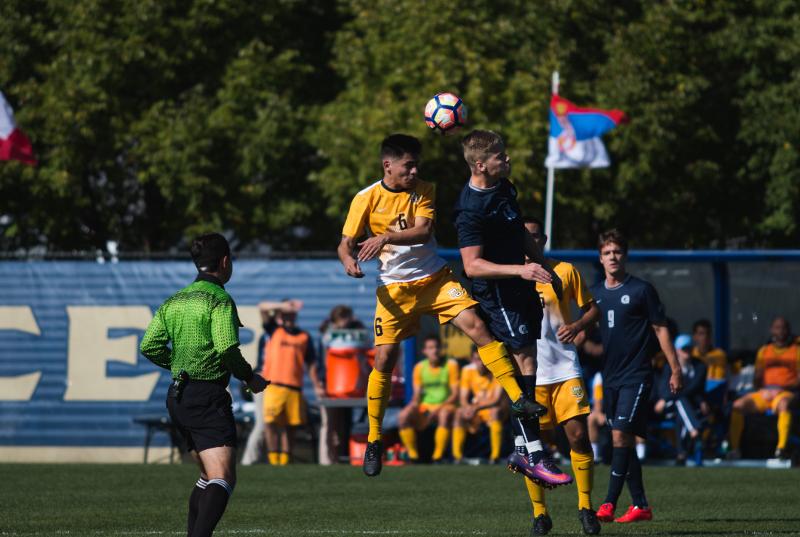 Meredith Gillespie
On paper a 1-1 draw against a 3-7-0 team might not seem like much, but Saturday that draw was an important BIG EAST point against Georgetown for Marquette men's soccer.
"A BIG EAST point is a valuable point," head coach Louis Bennett said. "I thought Georgetown was one of the better teams going into the season, and I still think they're one of the better teams."
PJ Koscher got the scoring started in the 14th minute when he knocked a loose ball into the back of the net from six yards out. Arun Basulevic played the ball into the box for Koscher from a short Christopher Lema corner kick.
Daniel Szczepanek was brought down in the box in the 67th minute and Luka Prpa finished off the penalty with a powerful strike into the top left corner of the net.
"Daniel Szczepanek is probably the man of the match because we took a forward and put him at right back because of our need for a certain thing, we needed speed," Bennett said. "The guy has got a huge heart. One of the things I love about him – you give him a job he's going to do it."
Just before the equalizer Jan Maertins and Brett Campbell traded near misses, Campbell's shot bounced off the post.
Marquette's best chance came late in the first half, when Connor Alba and Luka Prpa each had a quality shot blocked inside the box on back-to-back attempts.
"When we break it down we'll see some chances where we might have been able to win the game," Bennett said. "And we'll see a chance, one or two, where they may have been able to win the game."
Both teams had a number of chances to put the game away in regulation, but sharp goalkeeping from Wicho Barraza and JT Marcinkowski sent the tilt into extra time.
"It's not like it was a perfect game," goalkeeper Wicho Barraza said. "We made mistakes but luckily… we were able to correct those mistakes and capitalize and come up big when we had to come up big."
The final 20 minutes were unable to produce a goal, leaving both teams with a point each.
"I'm just proud of the team today," Barraza said. "We fought until the last minute and we did what we had to do and we came out with a tie."
"We showed a lot of character today," he continued.
Prpa's goal was a team high sixth of the season. That goal ended the freshman's six-game streak without a point.
Marquette's last victory was September 5 against Northwestern, more than one calendar month ago. Since their 3-1 start, the Golden Eagles are 0-3-4.
Marquette (3-4-4, 0-2-2) heads to No. 10 Creighton (6-1-3, 2-0-1) next Saturday night in search of their first BIG EAST win.