High participation anticipated for Homecoming
Marquette Homecoming returns to campus this weekend, and if the registration numbers are any indicator, participation is expected to be high. A total of 18 events – free to all students, faculty and alumni – will occur throughout the week, with many events sold out.
The last Homecoming was in 1993, but the tradition was revived by the university and Marquette Student Government due to popular demand.
"We have had a lot of people register already, which is great," Charlotte Hingley, MUSG programming vice president and senior in the College of Communication, said.
Thousands of students registered for each event. The Rachel Platten and American Authors concert had the highest rate with over 4,000 students.
"This is an event that students and alumni have been asking for for years, and we are finally able to reignite the tradition," Hingley said.
For months, MUSG has been planning and coordinating the Homecoming events that will run through Sunday, Oct. 9. According to Financial Vice President Cameron Vrana, MUSG contributed $35,000 toward Homecoming, with $9,000 of that going toward MUSG-planned events. They were also part of the Homecoming Steering Committee whose first job was to decide what students wanted from Homecoming.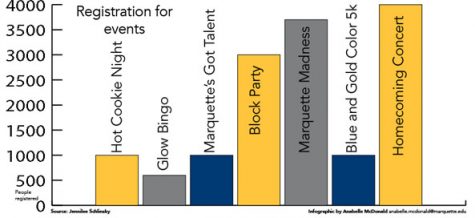 According to engagement director Jennilee Schlinsky, the committee consisted of both Marquette students and Milwaukee community members.
"There were many hands that helped make this initiative come to fruition and it was a true collaboration across the university and the Milwaukee area," Schlinsky said in an email.
Schlinsky added that the goal was to put a new spin on some historic Marquette traditions and create programming that appealed to students and the Milwaukee community.
"The hardest part of putting on Homecoming was conceptualizing what students want to see and then actually putting those plans into motion and making the events happen," Hingley said.
Eventually, MUSG decided on a wide array of events like Marquette's Got Talent, Glow BINGO and Fall Carnival. Not all events are just for fun, but some serve a greater purpose. The Blue and Gold Run raises money for Midnight Run, a Marquette service organization, and the Stuff the Truck food drive aims to collect 1,000 pounds of food for community members in need.
MUSG was responsible for choosing the concert performers. According to Hingley, they determined that Rachel Platten and American Authors were a good fit for Marquette.
All Homecoming events are free for students, faculty and alumni because of the funding from several contributing Marquette departments.
"All of the contributing departments agreed that we wanted this week to be fun-filled for everyone involved," Hingley said. "We want all students, alumni and faculty to be able to attend without worrying about picking and choosing events based on price."
With so many fun and inexpensive opportunities to engage with the Marquette community, there is palpable excitement on campus. It is that enthusiastic mood, Hingley said, that makes the planning process worth it.
Leave a Comment