All-American rower Sarah Reis a quick learner
Senior rower Sarah Reis is far from deep sleep as the sun breaks over the horizon at 4 a.m. When her alarm goes off she begins preparing for practice, which includes jogging downtown with her club crew teammates to the Milwaukee River. By 6 a.m., Reis and her teammates are swiftly gliding down the river as the morning sun creeps up.
Reis' story is one of hard work and dedication, fitting for a demanding sport that clashes with most students' schedules. In 2013, Reis had never rowed in her life. By 2016 she was an American Collegiate Rowing Association All-American.
With no prior experience, rowing at Marquette was obviously never the plan for Reis. It was a matter of meeting the right people at the right time. An avid athlete in high school, Reis looked to fill the void that high school sports left in her life. It wasn't until April of her freshman year that she approached some girls who lived on her floor who happened to be rowers.
"I just asked them like, 'Hey how is it? Do you guys like it?' and so they told me to come to a practice," she said. "So I went to a practice and then coach Geno was like, 'Oh do you want to row this year or next year?' and I said, 'Oh, I can row this year if you guys want.'"
The club was in need of another rower to fill out its boat, so with less than two months remaining in her freshman year, Reis finally found her new team.
With no prior experience and a late start, rowing challenged Reis unlike any other sport she played before. Club coach Kyle Stanley knows how difficult it can be for novices to pick up the sport.
"It was quite a learning curve for her," Stanley said. "There was a lot of muscle, there was a lot of power there, but learning to row took a lot of time."
Reis grabbed a hold of the sport quickly though, training throughout the summer going into her sophomore year and returning to Marquette as one of the club's best rowers. It impressed her teammates and coach Stanley.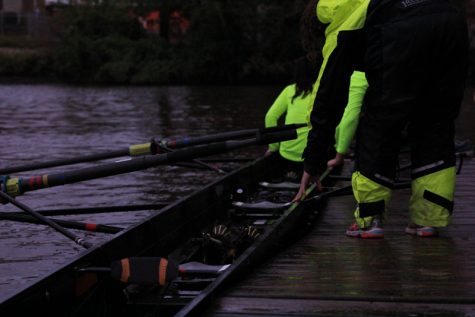 "She went out over the summer and got even faster, got even more power on the rowing machine there, went out and rowed a little bit and came back in the fall ready to kick butt and learn how to apply that even better," Stanley said. "She was in the lower freshman boat when she was learning to row and by the time she was a varsity member six months later, she was in the top boat."
Being a standout athlete from the start but still new to the sport, the technical side was the only aspect holding Reis back. Once she focused her training, her times improved dramatically.
"I think what set me back my freshman year was my technique, so once I got that down I was able to row more efficiently," Reis said.
Her improvement put her into the top boat of the club, seated in the middle of the eight or four person boats, also known as the "engine room." With Reis helping power Marquette, the club took fifth at nationals in 2015, and a bronze medal in 2016. Last year she was honored for her work, earning a spot on the second-team athletic and academic All-American teams.
"I was not expecting to do that well when I joined rowing. I just joined for the fun of it and just for the experience," Reis said. "It's really an honor to get both an academic and athletic All-American, and also all-region. I try not to think about it that much because even though I'm the fastest rower, I don't feel like I'm the best on the team."
"Everyone, all together, everyone has their strengths and weaknesses."
Reis is still uncertain what the sport holds for her when her time with the club is up. She's enjoyed being an ambassador for the sport to her friends and family who are new to it, like she was not long ago.
"I don't know, I'm a (physical therapy) student so I'm stuck here for another two years," Reis said. "I won't row because of eligibility, but I'm definitely going to miss it. It'll be interesting to see where it takes me. Hopefully there'll be a boat club where I'll be in the future, like a master's program or something. So hopefully I'll still be involved in it."
Leave a Comment