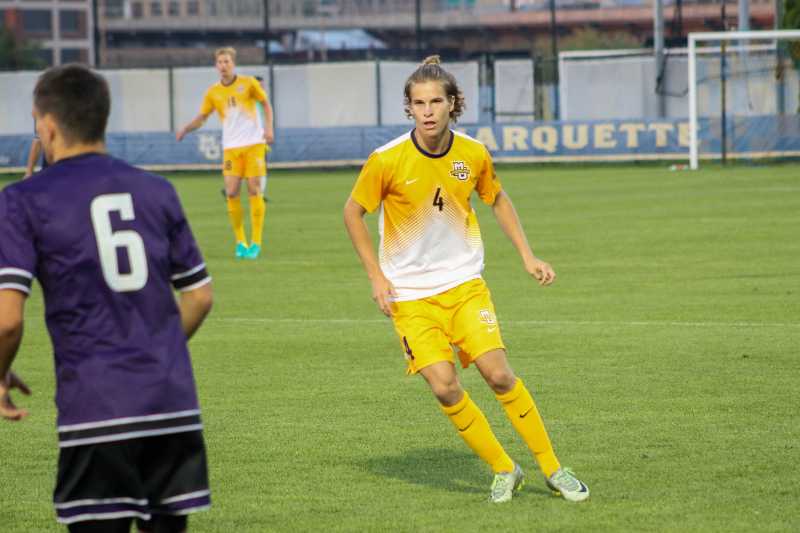 Brian Georgeson
Marquette used three second half goals, including two with ten men, to beat Northwestern 4-1 in the Golden Eagles' third straight victory. It's the first time Marquette has won three straight since 2014.
The Golden Eagles' ability to posses the ball during long stretches of play ultimately became a key factor throughout the first half. Marquette took the lead in the 18th minute, when Martin Alba received a ball from a throw-in and crossed it to Toby Howell, who headed it in to the back of the net for his second goal in two games.
"It makes my job a lot easier, especially with midfielders like Luka (Prpa) and Connor (Alba), they always seem to see you," Howell said. "I know they will find me in the box, and it makes my job a lot easier because I just have to make the run, and the ball will be there."
In the second half, Marquette continued to control possession and the match. The Golden Eagles scored again in the 49th minute when Prpa flicked a ball for Howell, who then crossed it into Diego Nunez who volleyed it home to give Marquette a 2-0 lead.
The Golden Eagles seemed in control until the 73rd minute, when senior goalkeeper Mac Wheeler received a red card for a slide tackle on Northwestern forward Elo Ozumba. After a five-minute delay and conference between both teams, Wheeler walked off the pitch and was replaced by Wicho Barraza. Jeffrey Hopson converted the penalty kick to make it 2-1.
The next ten minutes were a challenge, as Northwestern pressed high up the field but were unable to find the back of the net. In the 85th minute Ben Tweedie eased tension with the first goal of his career. His first shot was blocked, but he curled the rebound into the bottom left corner of the net to give Marquette a commanding 3-1 lead.
However, head coach Louis Bennett's men were not finished. One minute later, Prpa scored once again to make it 4-1, netting his fifth goal of the season on a counter-attack that sealed the deal. Bennett was pleased with how they handled being down a man and ending the match in style.
"I enjoy coaching guys with big hearts and people like watching guys with big hearts," Bennett said. "Today I thought there was a little bit of chaos when the goalkeeper was sent off and we had to restructure, but the quality of the two goals after that was phenomenal."
"Coach likes to say that 'there is no magic sauce, there is no magic dust' or anything," said Howell. "You just go out there, do the same things we've been practicing, and the goals will come, and they've certainly been coming."
Marquette will go for its fourth straight victory when they kick off on the road at Saint Louis Saturday.