From BRO'Donnell to CO'Donnell: Life at O'Donnell Hall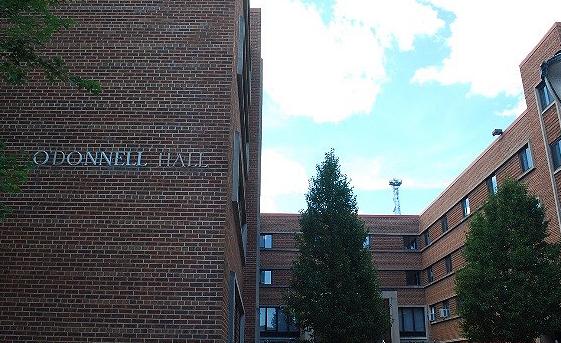 Hang on for a minute...we're trying to find some more stories you might like.
O'Donnell Hall underwent many changes since the announcement of the hall's closure in 2017, but most recently the dorm underwent renovations and transitioned from male-only to co-ed.
According to O'Donnell Hall Director Jennifer Roche, things have been going well since the building welcomed its final group of residents before its closure in 2017.
"Overall, the residents in O'Donnell have been enjoying the co-ed nature of the building," Roche said. "We have seen residents of all genders socializing together frequently in our basement lounge enjoying each other's company and getting to know each other."
The student response has been positive and the new residents said people are always asking where the girls are living in the building.
"With the fact that it's co-ed, you're able to meet a broader network of people," said Kyle Swansburg, an O'Donnell resident and freshman in the College of Business Administration.
Some residents are not only enjoying the social perks of having females in O'Donnell but are relishing in having a non-male floor in the middle of the three-floor residence hall.
"The middle floor doesn't smell like absolute man stank," said Joe Marco, a resident and freshman in the College of Engineering.
Nick Contezac, current senior in the College of Arts & Sciences and a former O'Donnell Hall resident, said he thinks the residence hall might become more of a party dorm because of the new set-up.
"I just think it's weird that there are two guy floors and only one female floor," Contezac said. "People wouldn't want to go to O'Donnell (in the past) because it was all guys."
Contezac did point out he feels like this is a move the university had to make to account for the increased enrollment.
According to Roche, resident assistants have received requests to combine weekly traditions with other floors to allow for more interaction with residents in other parts of the building.
The community at O'Donnell Hall appears to be close-knit. In the field on the side of the building, residents of both genders regularly play games such as Frisbee and a variation of volleyball called Spikeball.
One resident who was partaking in a game of Spikeball commented on the amenities found at O'Donnell Hall and the popularity of the basement at O'Donnell.
"The basement, or the 'Batcave' as the residents call it, is a great place to meet new people and socialize if you're bored,"  said Mark Luchok, a freshman in the College of Engineering.
Resident Natalie Anderson, a freshman in the College of Health Sciences, also commented on events that frequently occur in O'Donnell's basement.
"The basement is lively with ping-pong tournaments and pool tournaments," she said. "People like to relax down there because it is the only place that is air-conditioned."
Luchok said he enjoys living in a co-ed dormitory, commenting on how easy it is to meet people of both genders.
"You don't have to travel to different dorms," Luchok said. "You can just stay in your dorm and go to the 'Batcave' and meet girls and guys."
Resident Abby Isakson, a sophomore in the College of Arts & Sciences, remarked on the recent renovations for the incoming freshman class.
"It's a pretty nice dorm," Isakson stated. "I like how they renovated it for the freshmen this year."