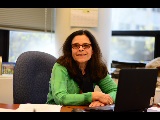 Meredith Gillespie
Cheryl Maranto and Paul Milakovich from Marquette won the first Excellence in Diversity and Inclusion Faculty Award sponsored by the university to recognize those who work to promote inclusiveness and embrace diversity.
Maranto and Milakovich were given these awards for their dedication to diversity and inclusiveness. They both said they felt honored to win.
Maranto is the Associate Dean in the College of Business and Administration as well as the chair of the management department.
"I'm humbled, thrilled, honored to win," Maranto said. "I think it's really good. I think it's one more way that it elevates the issue of diversity and inclusion for the university, which is critically important."
Maranto said every human has his or her biases but that doesn't mean people can't work to become more inclusive. She said much of what she learned about diversity and inclusion comes from her students.
"I think we've made some really good progress (with diversity), but as with every other predominantly white place of higher learning, we still have a long way to go," Maranto said. "I don't think it's something you ever stop working on."
Maranto will continue to work for diversity and inclusion at Marquette. She works with gender equity in higher education, wage differentials, labor relations and employment discrimination in her professional life.
"I think it's important for majority groups to remember that the way the world works for you doesn't work for everyone," Maranto said. "It's important to understand how different things can be."
Milakovich is the associate vice president in university advancement, which fundraises money for the university.
"It's part of my DNA to do a lot of charity and philanthropic work," Milakovich said. "I do a lot of social justice and social work, which diversity is a common thread through that work. I think (diversity and inclusion) will continue in my work."
Milakovich said he was "honored" to win the award and said one of the most meaningful parts  was that it was the first time the honor had been given out. He gave credit to the university for creating an award for faculty and staff who are dedicated to diversity.
"Diversity is always a challenge at any institution of higher learning," Milakovich said. "But it's getting better here at Marquette."
He said Marquette is taking strides to create a more inclusive environment, and even though Marquette can always make more progress, they achieved success in creating a more tolerant campus.
"Diversity issues are often hidden or out in the open, and that's why they're hard to address," Milakovich said. "I think giving an award like this helps get those issues out in the open."