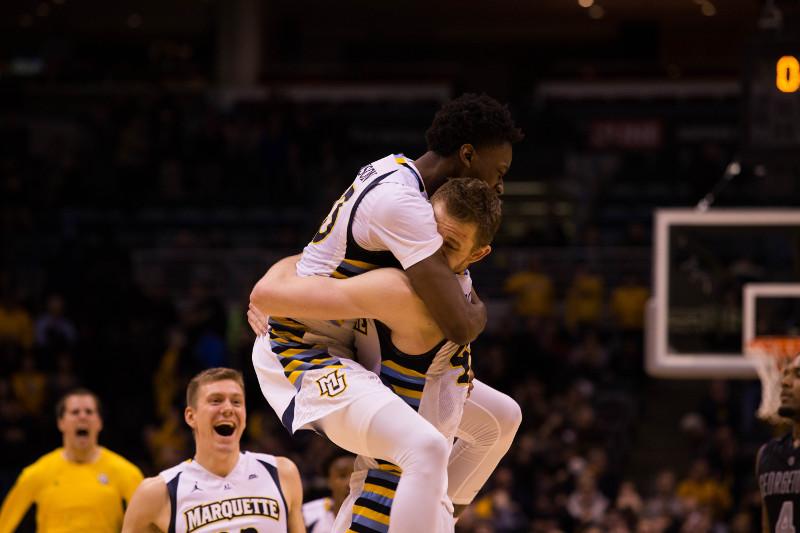 Marquette lost its star player, but the Golden Eagles refused to lose the game, too. After freshman phenom Henry Ellenson went to the locker room with an ankle injury with 7:20 remaining, Marquette held on for a dramatic 88-87 win against Georgetown.
Down one, Marquette had only 5.3 seconds to drive the length of the court. Head coach Steve Wojciechowski said the team drew up a play to have Traci Carter run coast-to-coast for a last second layup, but the young point guard realized the Hoyas were playing zone defense. He made a perfect pass to a streaking Luke Fischer, who drew a foul on Georgetown's D'Vauntes Smith-Rivera.
"It kind of broke down from the start," Fischer said. "Traci made a heck of a pass to me and I was able to capitalize on it."
Fischer was sent to the line with a chance to put Marquette ahead with only 1.2 seconds to go. With the pressure of postseason possibilities mounting, he had one thing on his mind.
"Just confidence," Fischer said. "We work at that stuff every day (with) pressure free throws at the end of practice. If you miss you run."
That confidence was validated, as Fischer hit both shots for his team-leading 22nd and 23rd points of the night. He was mobbed by his teammates after Isaac Copeland's shot from beyond half court bounced off the back rim. Fischer said he thought Jajuan Johnson was the first to get him, but it was his head coach who jumped right into his arms for the biggest hug. Wojciechowski was beaming with pride.
"When you walk up to the line, there's a lot of pressure on you," Wojciechowski said. "The feeling that you have when you make them, it's a feeling that Luke Fischer deserves."
Even with the excitement, Ellenson's injury puts a slight damper on the victory. He appeared to hurt his left ankle when he somersaulted after a made basket around the 7:20 mark in the second half. He spent a while writhing on the ground and needed help getting off the floor, but was able to put some pressure on the leg when he was in the tunnel. Marquette listed him as questionable to return, but he stayed in the locker room the rest of the game. Wojciechowski had no update when he spoke to the press.
"What runs through my mind is this kid, who's a hell of a kid, 'is he O.K.?'" Wojciechowski said. "My main concern is Henry and his health."
Ellenson recorded another double-double before leaving, scoring 10 points and snagging 11 rebounds.
The wind seemed to leave the Golden Eagles' sails once Henry was knocked out, as Georgetown scored six straight points to make it a one point game. With four minutes left the Golden Eagles found themselves behind for the first time in the second half.
Marquette took the lead right back thanks to a free throw from Duane Wilson and an and-one by Johnson, making the score 83-80. The teams traded baskets until the clock reached under 20 seconds. Despite a poor showing in the first half, Smith-Rivera's clutch gene came in handy for Georgetown, as he was able to get enough space between himself and Wally Ellenson to swish a jumper.
"(Wojciechowski) said 'We've got to finish this for (Henry),'" Fischer said. "With Henry going down, it was just extra motivation. We knew we had to step up."
Every Marquette player who took at least one shot scored in double-digits. Johnson and Haanif Cheatham each had 15, with Duane Wilson following closely behind with 14. Traci Carter scored 11 and dished a team-leading seven assists.
Marquette honored its only senior, former walk-on Michael Mache, in a ceremony before the game. He's played in four games this season, recording one point.
"He's my best friend," Fischer said. "He's done so much for this program. You guys don't see every day in practice, but he's the one talking. He's the one giving us encouragement. He's such a big key for everything that goes on with this team."
The Golden Eagles close out the regular season Saturday at Butler for a chance to earn as high as the 4-seed in the BIG EAST Tournament, but could fall as low as seventh. Marquette is currently a half-game behind Butler in the standings and the Bulldogs play Seton Hall tomorrow night. Marquette won the first matchup with Butler, 75-69, Jan. 30.