Women's club basketball falls in state tournament semifinals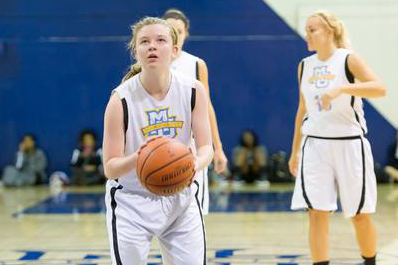 Robby Cowles, robert.cowles@mu.edu
February 25, 2016
Last weekend the women's basketball club went 3-1 at the Wisconsin Intramural-Recreational Sports Association state tournament at the University of Wisconsin-Green Bay. The team went 2-0 in pool play before advancing to and losing in the semifinals to the University of Wisconsin-La Crosse team.
The team's semester record of 16-7, with both players and coaches happy with the progress they've seen over the past couple games. Student coaches Jimmy Mortillaro and president Anna Lansdowne weren't discouraged by the semifin3al loss.
"For the most part, we played some of the best basketball we've played all year," Mortillaro said. "Of the losses we've had, (UW-La Crosse) was the only team that was truly better than us."
Lansdowne agreed that the team played well. "I think we ran into a team that was one of the better teams I think I've faced in all my three years, to be honest," she said.
The team is taking the loss as a learning experience going into their regional tournament this weekend at the University of Illinois Urbana-Champaign, and some players have payback on their minds. The Fighting Illini defeated Marquette in the Elite Eight last year en route to a national title.
"I think we all have pretty high expectations from how we played last year," junior Mary DeChant said. "We lost in kind of an upsetting way, in overtime, and most of us are all back. We're all juniors and were there, so we have pretty high expectations for ourselves."
Areas the team wants to improve on are slow starts, which have plagued the team from the start of the season, and being more mentally focused in each game.
"It's something you don't really think about with a team, something you don't really bat an eye at," Mortillaro said. "But for us, we're a team that can come from behind and win, but the reason we're fighting from behind is because we get such slow starts."
With the team confident in its shooting and depth, members mentioned mental aspects of the game as the biggest areas of concern. All firmly believe that they can win every game they play going into their next tournament and rest of their season when they're mentally sharp.
"In the past two years we've had two separate girls who were clearly far and away the best girls on the team, and in times of trouble we would just (let them) take the ball and do what they need to do," Lansdowne said. "But I think this team, we all play a more team game – we all trust each other to take the shot. It's not just one person running the show, which I like a lot better."