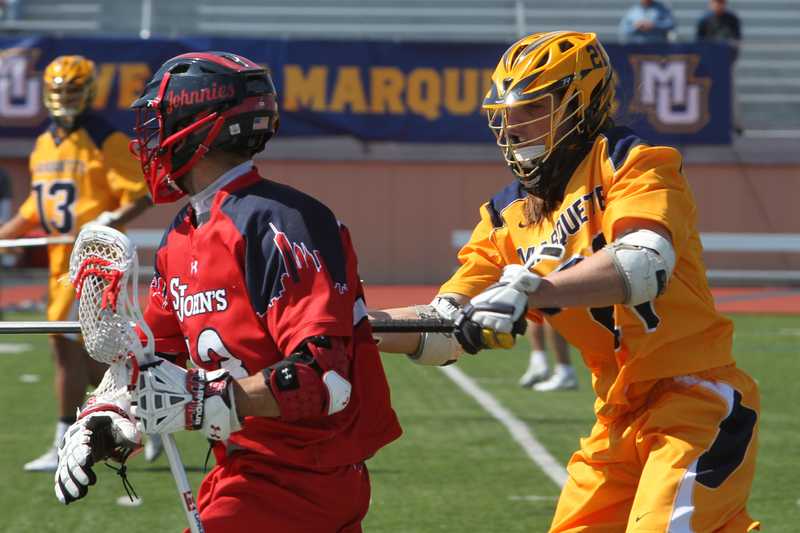 The Marquette men's lacrosse team and coach Joe Amplo have accumulated plenty of accolades in the program's first four years. On Friday, the Golden Eagles have a chance to make one more addition to the record books – the first player drafted into Major League Lacrosse, the sport's premier professional outdoor league.
Long-stick midfielder Liam Byrnes is collecting the most interest, and at 6-foot-3, he has the size to translate well to the professional game. Inside Lacrosse lists him as one of its underrated players in this year's draft. Byrnes was an All-BIG EAST First-Team member and chosen to IL's Pre-Season All-American list. He is the program's career leader in loose balls (158) and forced turnovers (69). As IL's Chris Rosenthal notes, Byrnes' success after moving to defense against Ohio State and defending 2015 first-round pick Jesse King boded well for his future.
Attackman Conor Gately is the most likely of the offensive unit to have his name called. He was named to the Tewaaraton List last season, a selection of finalists for college lacrosse's Most Valuable Player. The first Marquette player to total more than 100 points, Gately is the program's all-time leader in assists and points and was a member of the All-BIG EAST Second-Team last season. He scored 25 goals and 14 assists in 16 games his junior season.
Jacob Richard, B.J. Grill and Kyle Whitlow all are draft eligible as well. Richard, a defensive midfielder, may fall due to the offensive-minded nature of the league. History has shown that players of this mold, like former second-overall pick Chris Lapierre, can quickly lose value, and longevity is often left for the best of the best. Lapierre was traded for a third-round pick two years after entering the league. Richard scored four goals and three assists and started all 16 games last season.
The biggest hurdle for Grill will be overcoming his size, which is nothing new to the All-BIG EAST defenseman. Standing at 5-foot-5, Grill could be seen as a risk. Yet like Byrnes, he's had success defending players with professional potential, like former St. John's attackman Kieran McArdle (2015 5th overall pick) and Notre Dame's Matt Kavanagh, who is projected to be drafted second overall. He grabbed 21 loose balls and forced four turnovers in 16 games last season.
The draft will be held at 7:30 p.m. Friday from the Baltimore Convention Center and can be streamed online on the Lax Sports Network. If a Marquette player is selected, he would join his respective MLL team following the end of the collegiate season.
Two former Golden Eagles have been drafted professionally. Tyler Melnyk and Andrew Smistad were both drafted into the National Lacrosse League, the sports premier professional indoor league. Both were selected in the 2014 NLL draft.