ICYMI: Top stories from winter break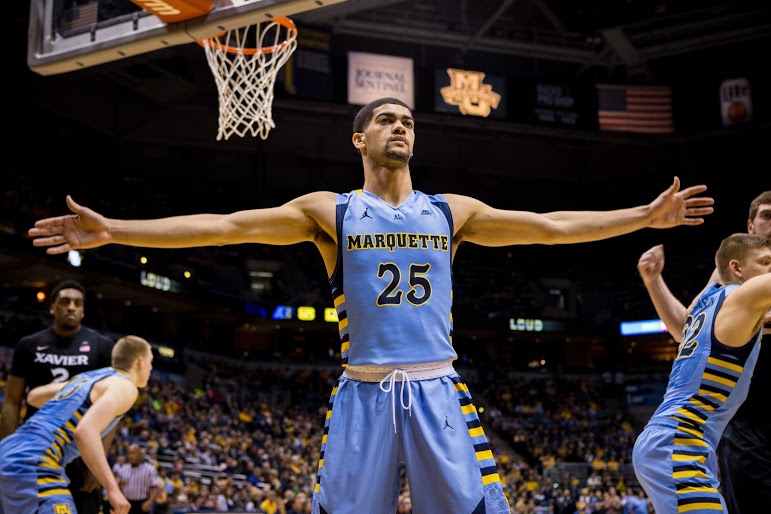 In case you didn't follow Marquette athletics in the month students were off from school, here are the five most important things that happened over break:
Marquette upsets Providence (Jan. 5)
There wasn't a lot of optimism about Marquette's chances of beating No. 8 Providence in the Friars' own building. The Golden Eagles were 0-2 in the BIG EAST and weren't particularly close to victory in either of those games. Providence, on the other hand, had only lost once all season coming into the Marquette game and boasted a national player of the year candidate in point guard Kris Dunn.
Yet by the end of the night, none of that mattered. Redshirt sophomore guard Duane Wilson fought through the Friar defense and got a layup to fall with 31 seconds left to give Marquette a 65-64 lead, then freshman forward Henry Ellenson swatted Dunn's last-second shot to secure the victory. It was Marquette's first win over an AP top-10 team since the Golden Eagles knocked off Miami (FL) in the 2013 NCAA Tournament.
Ellenson played a terrific game against the Friars even aside from his game-sealing block. He scored 13 points on 6-of-13 shooting to go along with 10 rebounds, four blocks and three steals. Freshman guard Haanif Cheatham also added a team-high 16 points on 5-of-7 shooting.
Inconsistency plagues men's basketball
Despite their momentous victory over the Friars, all is certainly not well with the Golden Eagles. Turnovers, poor shot selection and occasional defensive lapses have dogged Marquette for the first six games of its BIG EAST schedule.
Most of these problems were evident from the first game of conference play, when Marquette led Seton Hall by one at halftime yet ended up losing by 20, making only a quarter of its field goals in the second half and allowing the Pirates to shoot 50 percent from the field. The Golden Eagles' defensive struggles continued in their next game against Georgetown. The Hoyas shot nearly 60 percent in the first half and downed Marquette 80-70.
Even when the Golden Eagles' defense held, they never could seem to get out of their own way on offense. Marquette dropped their last two games against Villanova and Xavier. Both games featured stretches in which the Golden Eagles did not make a field goal for more than eight minutes. With such up-and-down production on both sides of the ball, there is little wonder that Marquette finds itself at 2-4 in conference play and struggling to stay afloat in a deep BIG EAST.
Allazia Blockton emerges for women's team
Men's basketball isn't the only Marquette team to have a blue-chip freshman. Shooting guard Allazia Blockton has been a menace for the women's team in her first year in Milwaukee. She is averaging 19 points per contest, which is second in the BIG EAST only to St. John's guard Danaejah Grant. Perhaps even more impressive is the fact that she is shooting 46 percent on the year. Blockton also leads the team in free throw attempts (9.9 per game) and rebounds (7.8 per game).
"She could be a phenomenal player," head coach Carolyn Kieger told the Milwaukee Journal Sentinel. "She's a great player right now. I really believe she has the talent and the potential to be one of the best players to ever play here."
Kieger's claim has plenty of support from the BIG EAST conference, which awards Blockton a new honor every week. She earned a BIG EAST honor roll commendation this past Monday, which means that she has now won a conference award in eight consecutive weeks dating back to the start of the season. Don't be surprised to see her on the All-BIG EAST first team at the end of the year.
Marquette soccer closes in on top-10 recruiting class 
One of the biggest disappointments for Marquette fans this year was the performance of the men's soccer team. The BIG EAST champions from just two years ago ended their season on a six-game losing streak to finish 1-7-1 in conference, good for ninth in the 10-team BIG EAST just above winless Seton Hall.
Hope may soon be on the horizon as the Golden Eagles are on the verge of inking a recruiting class ranked 10th in the nation by Top Drawer Soccer. This will be the fourth consecutive year that Marquette has signed a recruiting class ranked 15th or better by the site. The highly touted class, which will be announced Feb. 3, will have a lot of work to do next year. Six players graduated from the Marquette soccer team this past year, including forwards C. Nortey, David Selvaggi and Kelmend Islami, who combined to score 16 of the Golden Eagles' 20 goals.
Markus Howard sets official Marquette visit  (Jan. 1)
Golden Eagle fans got some good news to kick off 2016 when Markus Howard announced that he would use one of his five official visits on Marquette. Howard is a 5-foot-11 point guard out of Findlay Prep in Henderson, Nevada and is currently rated as a high four-star prospect for the class of 2017. However, he is considering reclassifying to 2016 since he has nearly completed his high school coursework and thus would be eligible to start college next fall. If he does reclassify, Marquette has an open scholarship spot to accommodate him.
Howard told 247Sports he will visit Marquette and Indiana in February and both Baylor and Central Arkansas, where his brother plays, in March. After that, it is likely he will make a decision in early April ahead of basketball's National Letter of Intent signing day April 13.
247's composite rankings currently have Howard as the 30th best prospect in the nation and the 6th best point guard. Even if he were to re-classify into a point guard-rich 2016 class, it is fairly likely that he would still be a top-40 prospect and Marquette's highest-rated point guard recruit since Vander Blue in 2010.