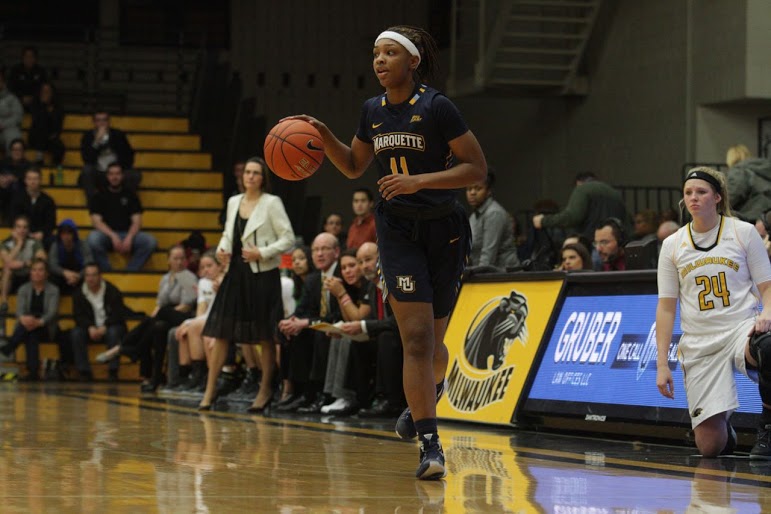 Rebounding off a 31-point loss to then-No. 23 Seton Hall, Marquette (5-9, 0-3 BIG EAST) was able to hang with another tough opponent in St. John's (12-3, 3-1 BIG EAST) Tuesday night, taking the Red Storm to overtime before falling 81-77.
St. John's led at the half, 39-27, after a dominant second quarter in which the Red Storm outscored the Golden Eagles 18-7, but Marquette quickly erased that lead with a 19-5 run in the third to take a 46-44 lead.
Undeterred, the Red Storm ramped up their offensive output and took a 64-59 lead with just over three minutes to go. Marquette battled back, though, and freshman guard Allazia Blockton's jumper tied the game at 69 with under a minute left and eventually forced overtime. However, the Red Storm's slashing guards became too much for the Golden Eagles to stop, and they fell in OT after allowing St. John's to go 4-5 from the field.
Even though Marquette didn't come up with the victory, their renewed vigor on offense is an encouraging sign. Blockton shook off her rough game against Seton Hall to lead Marquette in scoring with 25 points on 10-of-23 shooting. Blockton also snatched a career-high 13 rebounds, six of which came off the offensive glass.
Freshman guard Danielle King did not play in the game, so the rest of Marquette's backcourt had to account for her production. Freshman guard Amani Wilborn had 17 points on 6-for-11 shooting in one of her most efficient games to date, but she also had seven turnovers and struggled to facilitate the offense. Junior McKayla Yentz emulated King's scrappiness with nine rebounds, but couldn't take the ball to the basket. She went 3-for-10 from the field and 2-for-9 on three-pointers. Freshman Natisha Hiedeman impressed with 14 points and four steals, but also allowed opposing guard Danaejah Grant to put up 27 points.
Marquette's defense improved from their abysmal showing against Seton Hall in South Orange, but it's still well below even mediocrity. The Golden Eagles have given up 80 or more points to nine of the 14 opponents they've played this season, including each of their first three BIG EAST foes. They are giving up an average of 79.6 points per game, which ranks 336th out of 344 DI programs in the country and last among teams in major conferences.
Fortunately for Marquette, the schedule gets easier for the next few weeks. Six of the team's remaining eight games in January are at home, including its next game against Villanova on Saturday. The Wildcats are 8-6 overall and 2-2 in BIG EAST play.