Marquette provides space for MPD crisis intervention training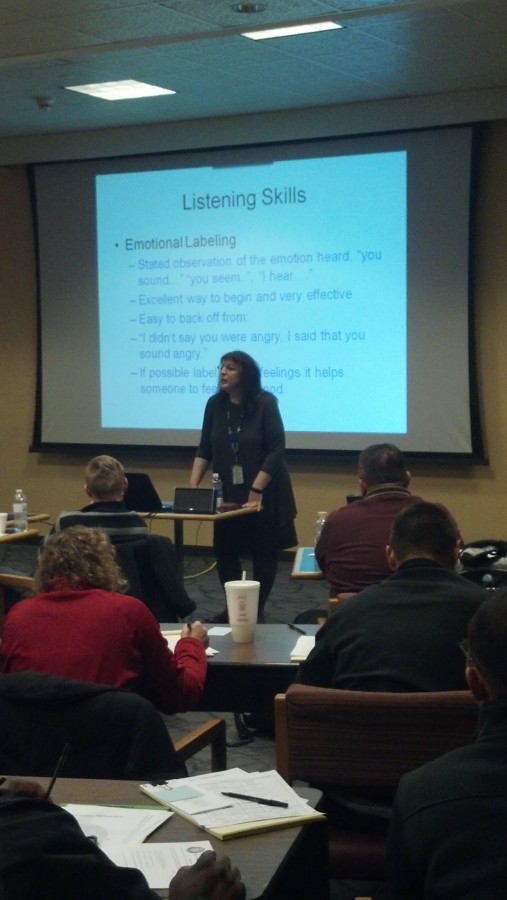 Gary Leverton, Higher Education Reporter
December 10, 2015
Due to overcrowding, some members of the Milwaukee Police Department are receiving their mandatory crisis intervention training on campus.
Training concluded with its eighth intervention session of the year on Wednesday Dec. 9.
"This is the weeklong training that teaches officers how to deal with someone who is in emotional crisis," Paul Mascari, Marquette University Police Chief, said in an email.
Looney said most of the training takes place at the Milwaukee Police Academy, but with it being busy around this time of year, Marquette offered up spaces around campus for the training.
"I'm very glad Marquette was willing to let us use their space," said Liam Looney, a crisis intervention coordinator. "It was a great help."
In Nov. 2014, Mayor Tom Barrett required every police officer to complete 40 hours of crisis intervention training following the shooting of Dontre Hamilton April 30, 2014. Hamilton was fatally shot by former MPD officer Christopher Manney in Red Arrow Park after the department received calls about a man sleeping in the park. MPD has since conducted eight week-long training sessions to prepare officers for situations involving mentally ill individuals.
"The goal of the training is for officers to recognize mental illness with persons involved and to evaluate the situation while avoiding use of excessive force," Looney said.
Looney said the first three days of training featured mental health professionals who spoke about their experiences in handling certain situations. He said most of the speeches included discerning between different illnesses, identifying symptoms and practicing active listening.
"This training teaches officers not to rush in and just take care of the immediate problem," Looney said. "Instead, it teaches them that some situations require an evaluation of a situation."
Looney said the next two days involved site visits to places like Grand Avenue Club and Our Space, where mentally ill people have the opportunity to hang out and work on various things without feeling stigmatized. He said they also visited the Autumn West building, where homeless people with mental illness can stay for up to two years in order for them to recover.
"The goal of that day is to show officers there are places to take mentally ill people that aren't in life threatening situations," Looney said. "It's very important that they know what resources are out there."
Looney said the final day of training included a role-playing activity, where situations in which participants simulated a low key environment. Looney said he heard from several officers who found the training beneficial.
One officer who just completed the training was called to a suicide situation the following day. Looney said the officer used his training and eventually got the individual off the railing and away from danger.