Jingle Bus explores light displays around city
Tour changes each year to excite previous and future visitors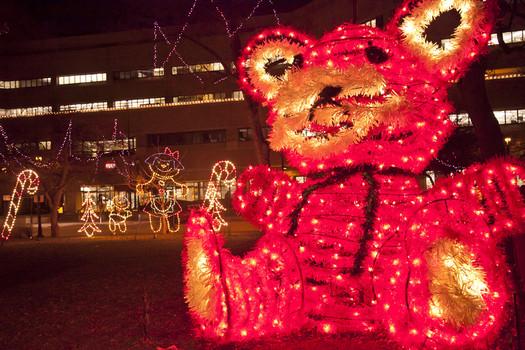 Dennis, A&E Reporter
December 10, 2015
Hang on for a minute...we're trying to find some more stories you might like.
It's the most wonderful time of the year and Christmas decorations are finally displayed in various Milwaukee parks. Held annually and running now until Dec. 27, the Jingle Bus Tour is a 40-minute ride, which drives by three different decorated parks. The tour runs Thursday through Sunday from 6-9 p.m. and picks up at the Center Court at The Shops of Grand Avenue. For one dollar, riders will get to see the holiday lights and receive cookies and hot cider at the end of the tour.
The Jingle Bus Tour is operated by downtown businesses like Northwestern Mutual, Johnson Controls and Business Improvement District 21. These businesses alter the bus route every year, so veteran riders can come back and get a different experience. Vince Flores, director of the public service ambassadors for Business Improvement District 21, explained how the Jingle Bus Tour was started from private downtown businesses.
"This is a private concern," Flores said. "This is not done by the city, this is done by the downtown businesses to draw people into the area to experience what it is really like."
Jingle Bus riders will start at the Grand Central Mall on Third Avenue and hop onto a Coach USA Bus. The bus will drive around Cathedral Square Park, where nearly 2,000 students from various Milwaukee schools have set up personally-decorated trees filled with handmade ornaments and lights. Each tree has a theme unique to its school.
After driving around the park, Christmas music starts to play and tourists can enjoy the city lit up at night.
The bus continues toward Pere Marquette Park and Zeidler Union Square. Marquette Park features giant lit-up candy canes and a large Santa with wooden toy soldiers protecting the area. Zeidler Union holds a toy chest theme park and contains an animated Jack-in-the-Box and helicopter for people to see.
Unfortunately, riders will not be able to get off the bus at any of these parks to explore. However, a tour guide gives passengers a brief Milwaukee history and tips on places to visit.
Tour guide Matthew Tobias has been doing the Jingle Bus tour for four years.
"I like to tell people things that they can do downtown that are free," Tobias said. "So … if they come down here again, they can check that out."
Those waiting in line for the Jingle Bus Tour can sit and wait in the Grand Avenue Mall lobby, where the Leonard Bearstein Bears Orchestra will play holiday tunes to keep people in the Christmas spirit.