Running Club makes first trip to Nationals
Men place near top half out of 50 qualified teams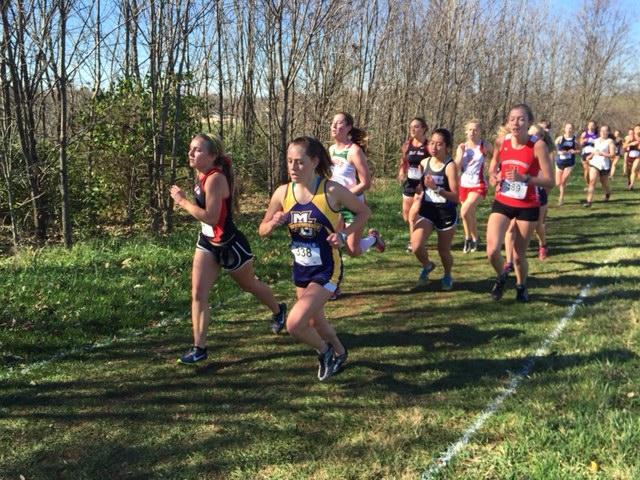 Robby Cowles, robert.cowles@mu.edu
November 18, 2015
The Marquette running club competed in the National Intercollegiate Running Club Association National Championship in Lexington, Kenucky this past weekend for the first time in club history.
The men's team, which runs the 8,000 meter distance, finished 28th out of 50 teams while the women's team raced in the 6,000 meter event and finished 35th out of 37 teams.
Junior Tom Wentworth was the top male finisher for Marquette with a time of 27:01.22, good for 95th out of 363 runners. All seven men on the team finished in under 29:15. Junior Shelby Koontz was the top female finisher with a time of 26:17.30, placing her 167th out of 275 runners.
Wentworth set a personal record on Saturday, improving his time from Regionals, just 3 weeks ago, by 40 seconds. He puts all his improvement on his training with the team.
"We've been working for (Nationals) all year," Wentworth said. "There were a lot of days where most of us were up at 5:30 working before the sun was up. So the work was there. The confidence was there, we were trained well, and it was a beautiful day.''
"Tom had an insane race," Koontz said. " I remember seeing him coming to the finish line and thinking, 'that's really early' so I checked the clock and was like, 'whoa, Tom!'''
Senior club president Xander Jacobson was generally pleased with how the club performed in its first-ever trip to cross-country Nationals.
"I think we did well," Jacobson said. "We were up against some great competition, I think the men would have liked to do better. We really had no idea where we would end up going into it so now we have a benchmark for the future."
Although the club has competed at NIRCA Track & Field Nationals the past three years, Jacobson and Wentoworth said the achievement of competing at cross-country Nationals demonstrates the strides that the club has made in the past few years.
"I think it shows where we've gone, because when I started freshman year there was a total of like, 10 people that would race, and it would be like short races and local races," Jacobson said. "To have 17 people go to a race that's (in Kentucky) and is such a high-level competition race, it was exciting."
"It was our first time establishing ourselves as one of the more competitive clubs, and we placed close to the top half which is pretty good for our first year," Wentworth said. "Plus we beat Duke, which is always a good thing."
With the success at Nationals and the growing number of members each year, Wentworth envisions a very positive future for the club.
"Nationals is going to be something we shoot for every year," Wentworth said. "Everybody got a great experience, so it was awesome to go out there and compete from schools all over the nation. We kind of know what it's about now. We know where to build from."
With cross-country season is now over, the runners will shift their focus to shorter distances as the club prepares for the track and field season beginning in January.