Student opinions on self-balancing scooter riders on campus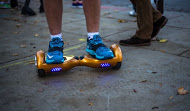 Marquette students are taking a cue from Tupac Shakur's "Picture Me Rolling"  as they cruise around campus on their self-balancing scooters.
It isn't uncommon to walk to class and share the sidewalk with someone riding on their "self-balancing scooter" or "Segway without handlebars."
Self-balancing scooters can be bought online from sites like eBay or Amazon and cost $250 and up.
Jake Nikolay, a freshman in the College of Communication, saw many basketball players riding around on self-balancing scooters and decided to buy one.
"I get a lot of people asking to ride it," Nikolay said. "Most people are pretty cool with it."
Nikolay finds himself using his self-balancing scooter nearly every day.
"It saves a lot of time, usually," he said. "It's faster than walking."
Although self-balancing scooters fascinate some, others are skeptical of their practicality and necessity.
"They look cool, but I think they're pretty pointless," said Annah Horst, a freshman in the College of Communication. "I especially get irritated when I see basketball players and athletes using them. Sometimes I've seen them inside, which I don't understand."
Bibin Augustine, a freshman in the College of Health Sciences, finds self-balancing scooters to be cool, but would never personally want to own one.
"I wouldn't bring it to campus with me everywhere because sometimes they're practical, but sometimes they're not," Augustine said. "You can pretty much just out-walk them."
Because this new mode of transportation is still gaining popularity, no laws for self-balancing scooter usage exist.
In the eyes of the law, self-balancing scooters are most closely related to Segways. They are motorized vehicles that often share the sidewalk with pedestrians.
"Motorists tend to react to the speed of pedestrians, so if you're moving in a pedestrian kind of walkway, then you could potentially put yourself at risk with pedestrians," Marquette Police Department Chief Paul Mascari said.
Mascari has not witnessed any major incidents involving self-balancing scooters. He said no one has requested that the university regulate the usage of self-balancing scooters on campus.
The issues that have arisen have been mainly off campus and involve theft.
"We have seen elsewhere in the city that self-balancing scooters have become a target for criminals," Mascari said.
Mascari advises self-balancing scooter users to make sure they are aware of their surroundings and to use their devices in well-lit and well-populated areas.
"It takes people a while to catch up whenever there's a new mode of transportation out there," Mascari said.