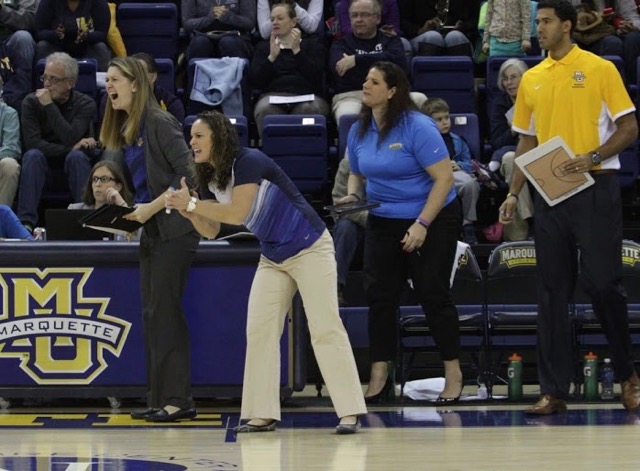 "It's almost basketball season!" exclaimed Marquette women's basketball head coach Carolyn Kieger seemingly out of the blue as she waited for her media day press conference.
Such spontaneous outbursts of excitement may be out of place for almost everyone else, but they are standard fare for Kieger, who is entering her second year as Marquette's head coach. Kieger is a one-woman hive of activity on the sidelines, pointing and yelling and running every which way during games and practices.
The former Marquette point guard and captain will put her seemingly limitless reserve of energy to the test this year through a daunting challenge: coaching an 11-woman team that contains eight freshmen.
"We're teaching every day, we're learning every day, we're implementing a new offense, a new defense," Kieger said in her typical rapid-fire cadence.
New is the operative word for this Marquette team, from the redesigned court to the snazzy championship blue uniforms to the scheme the players will be running to the players themselves. Marquette has the youngest team out of the 349 programs in Division I, and that brings with it a set of difficulties that no other coach in the nation faces.
"Obviously, (this team) doesn't have experience," Kieger said. "We can do drills all we want, but they haven't worn that jersey yet. They haven't been in late-game situations where the pressure's on them and they have to ice a free throw or get a stop."
It is this lack of experience that caused Marquette to finish ninth in the BIG EAST preseason poll, one point ahead of Providence in last place. Marquette was also the only team to not have a player on a BIG EAST preseason all-conference team, although that is primarily due to the fact that Marquette only has three non-freshmen and returns zero starters from last year.
You would never guess any of that from talking to Kieger, though, who describes her young team as "awesome."
"This group is coming in hungry and eager," she said. "They're acting like sponges and soaking up everything we're teaching. They've been so fun to coach."
One doesn't need to look too hard to find some reasons for optimism on this team. The incoming freshman class contains a trio of Wisconsin guards that ranked among Prospect Nation's Top 150 recruits: Amani Wilborn, Allazia Blockton and Natisha Hiedeman. Freshman forward Erika Davenport was also a top recruit.
Hiedeman says that Kieger's frankness in her recruiting visit was a large factor in her decision to come to Marquette.
"She set out the goals right away," Hiedeman said. "Her goals and my goals meshed, so it ended up being perfect."
The primary goal for Kieger this season will be to improve on a dismal 2014 campaign, which saw the Golden Eagles go 9-21–their worst overall mark in 29 years. That record included a 10-game losing streak to start BIG EAST play, which came one shy of tying a program record for the longest losing streak.
Last year's struggles were largely due to a suspect defense, which ranked 340th out of 343 in the country in points per game allowed. Kieger bristled when the topic was brought up in a media day press conference.
"We're definitely not talking about last year at all," Kieger said. "This is a completely new defense and completely new personnel, so we don't worry about that. We haven't played a ball game yet, so my defense right now is number one in the country."
Kieger found substantially more success on the offensive side of the ball last year; Marquette finished in the top half of the BIG EAST in points per game, free throw percentage and offensive rebounding. When asked whether or not she would maintain last year's fast break-centric offense, Kieger wasted no time in responding.
"We will be very fast this year," Kieger said. "We're going to run and we're going to get up and down very quickly."
When one gets to know the fast-moving, loud-talking, fist-pumping ball of energy that is Carolyn Kieger, it almost seems ridiculous to think of her running a team any other way.