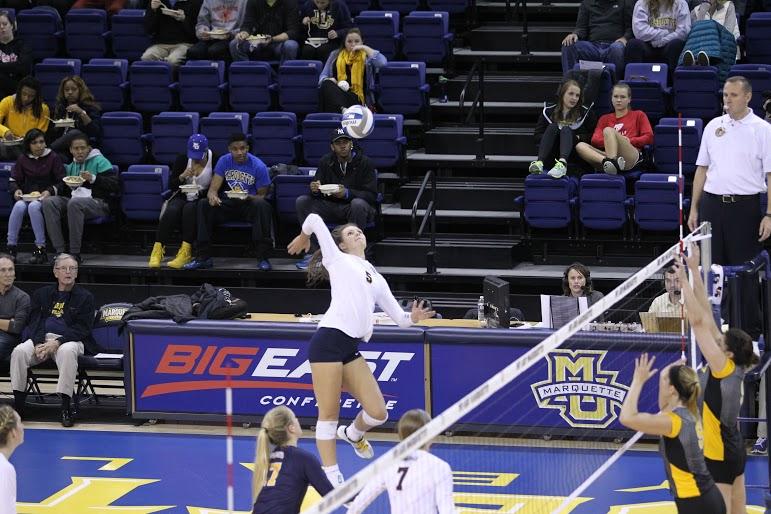 Marquette volleyball's six-match winning streak will face its biggest threat to date on Friday night.
The Golden Eagles will play their final two home matches of the year this weekend, with the first coming against the conference-leading Creighton Bluejays in what may be the most important match of the year.
The 12-1 Bluejays lost for the first time in conference play last weekend against Villanova. Marquette's conference record currently sits at 9-3, so a win would put the Golden Eagles only a match-and-a-half behind the Bluejays for the regular season conference title with five matches left to play. The two teams are also adjacent in the national RPI standings: Creighton is 23rd and Marquette is 24th.
Despite the renewed possibility of a BIG EAST regular season title, Marquette head coach Ryan Theis said his team is taking the season in stride.
"They know the standings," Theis said of his team. "Our team knows what playing Creighton at home means, so I don't think we'd pile any more pressure on by saying 'we have to catch them.'"
Marquette last played Creighton on Oct. 11, and the match was not particularly close. Creighton outside hitter Jaali Winters made a mockery of the Marquette defense, putting up 23 kills on 37 swings to lead her team to a 25-19, 25-21, 25-16 victory.
"She's got a lot of range," Theis said of Winters. "We'll probably see over 200 attacks from her (on film) and decide what we want to try and take away… If you can take one of her shots away, you can slow her down."
Win or lose, Marquette will not have a lot of time to recover before it's back on the court again against the Georgetown Hoyas for the final match at the Al McGuire Center in 2015. Georgetown should provide a bit of a respite, though; the Hoyas are eighth in the BIG EAST with a 4-9 conference record.
The Georgetown match is also Senior Night, which means that it will be the final home match for outside hitter Erin Lehman and junior setter Mary Nilles. Lehman is a fourth-year senior who will graduate at the end of the year, while Nilles will choose to forego her final year of athletic eligibility in order to graduate Marquette early and attend physical therapy school.
"Mary and Erin have been so upbeat and so positive toward our younger players," Theis said. "Their ability to have fun with themselves and in this environment has meant a lot to us."
Theis' squad can also secure its place in the BIG EAST tournament this weekend. Only the top four teams in the BIG EAST make the conference tournament, and Marquette is four matches ahead of Butler for the four-seed with six matches to go for both teams. If Marquette wins both of its matches this weekend and Butler loses one of its two weekend matches, the Golden Eagles will clinch a BIG EAST tournament berth. However, given Marquette's sizable lead on Butler and the brevity of the remaining schedule, it is likely that Marquette will at least earn the four-seed in the tournament even if they do not clinch it this weekend.