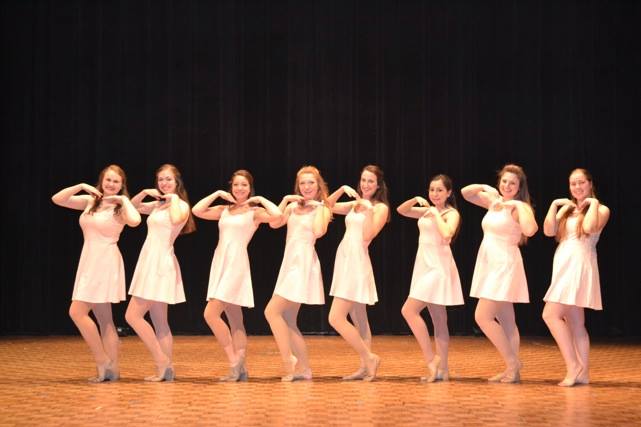 Dance Inc. Marquette, home to 63 dancers, is holding its annual semester showcase this month with special guest performances from Hype Dance Company and the Naturals.
Dance Inc. holds open auditions once a semester. Something unique about this dance organization is it offers a range of ability levels– allowing for new members, and an increased ability to learn and grow as a dancer.
"You could not dance a day in your life, or have danced all your life," said Kathryn Vetter, a senior in the College of Education and president of Dance Inc."We just want people to get up and dance, enjoy themselves, and have a good time."
Dance Inc. was founded in 1999. Since then, it has continued to grow in size and presence. This semester, the show put on by Dance Inc. will showcase eight different genres of dance. Dance Inc. is one of the most versatile dance groups on campus. Other dance groups typically focus on one or two dance styles.
Each number is choreographed by one to two students, chosen by a seven member E-Board. Cassandra Lecinski, a freshman in the College of Arts & Sciences, is a first time choreographer for Dance Inc., but is no stranger to choreographing.
"I'm a teacher at my studio (The Round Lake Area Park District of Dance and Baton) so I choreographed for them. We had to take a class before we could become teachers. I choreographed for my high school orchesis club. It basically works exactly like Dance Inc. does," Lecinski said.
Lecinski is choreographing one of the tap dances in the show, which is a piece she has been working on for a long time.
"I had to choreograph something for a class that I was subbing for. I was scrolling through my music when I saw the song. Then I decided to finish it and make it more advanced," Lecinski said.
While Lecinski agrees seeing her work onstage is cool, that is not what is normally going through her head during a performance.
"Usually, I'm not really thinking about how it looks. I'm usually focusing on the kids. I'm in the teacher mindset," Lecinski said. "I'm thinking 'I'm so proud of them,' and 'Oh my gosh, look how much they've improved.'"
Choreographers open the show with a special choreographer dance. This semester, the number is to "Rather Be" by Clean Bandit featuring Jess Glynne. The theme of the showcase, I'd Rather Be Dancing, is modeled after the choreographer dance, and was voted on at auditions earlier this semester.
Choreographers schedule rehearsals once a week with the help of E-Board. Rehearsals typically last one to two hours. With roughly two months to rehearse, there is a lot of work that goes into each one.
"Because we don't have that many practices, we definitely focus on getting as much done as we can," said Allyson Otten, a sophomore in the College of Business Administration. "Most importantly they're fun."
Otten transferred to Marquette this year. Otten decided to join Dance Inc. because she had previously danced with Vetter, who seemed to love dancing with the group. She has been dancing since she was two, and will be in four different dances for the showcase.
"I'm most excited about performing again because it's been a couple of years, and for my parents to see that I can still do it," Otten said.
Dance Inc. is a completely student run organization. Vetter sees this as a positive asset to the organization.
"Peer to peer relationships build stronger bonds, with more trust and creativity," Vetter said. "You kind of work off of each other and are able to change what you want to change and (do) what you think is best for the organization."
Dance Inc. will perform twice; their first show is Saturday, Nov. 14 at 5 p.m. and their second show is Sunday, Nov. 15 at 1 p.m. Both shows will be in the Weasler Auditorium and admission is free.
In order to allow dancers to join for free and audiences to enjoy the show for free, Dance Inc. takes donations, sells flowers and hosts bake sales. The next bake sale is in Straz Business Hall Nov. 10-11.
Dance Inc. has given Marquette students a chance to continue, and even find passions for dancing. With so much stress on the importance of academics, Dance Inc. allows time for exercise and artistic expression.
"I've enjoyed working with so many different dancers and choreographers and getting to stay dancing throughout college," Vetter said.