Women's soccer earns No. 5 seed in tournament after DePaul loss
Golden Eagles head back to Indianapolis to face Butler Tuesday night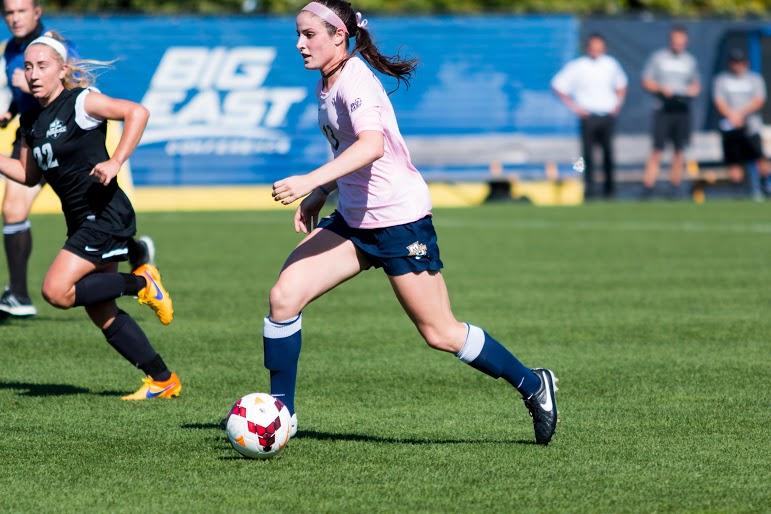 Dan Reiner, daniel.reiner@mu.edu
October 31, 2015
The Marquette women's soccer team will head back to the Butler Bowl for Tuesday's BIG EAST Tournament Quarterfinal matchup.
Marquette earned the No. 5 seed in the tournament after losing 2-1 in overtime at DePaul on Friday. Butler's 2-1 win over Xavier gave them the No. 4 seed and the right to host the first round match.
Friday's disappointing result came after a physical match with the Blue Demons, who earned the No. 3 seed in the tournament and will host Providence Tuesday. After DePaul senior Elise Wyatt scored her 12th goal of the season in the 61st minute, Marquette and redshirt junior Darian Powell quickly responded just six minutes later. Powell received a free kick from redshirt senior Jacie Jermier right to her foot off the far post to boot it home for her seventh goal of the season and her fourth in the last three matches.
DePaul sunk the game winner after a Marquette defensive breakdown in the box. Jessie Schmidt snuck through the back side in the 96th minute to give the Blue Demons the victory.
"Overall we worked tremendously hard on the defensive side and limited them to few opportunities considering how well they have done offensively this year," Marquette head coach Markus Roeders said. "I thought we played a really nice match, probably good enough to win it, but we didn't get it done."
The Golden Eagles will now travel back to Butler, who they defeated 1-0 on Oct. 25 on a 32nd minute goal from Powell. The game is scheduled for 7 p.m. and can be seen on the BIG EAST Digital Network, with the winner advancing to play No. 1 St. John's in Omaha, Nebraska on Thursday.