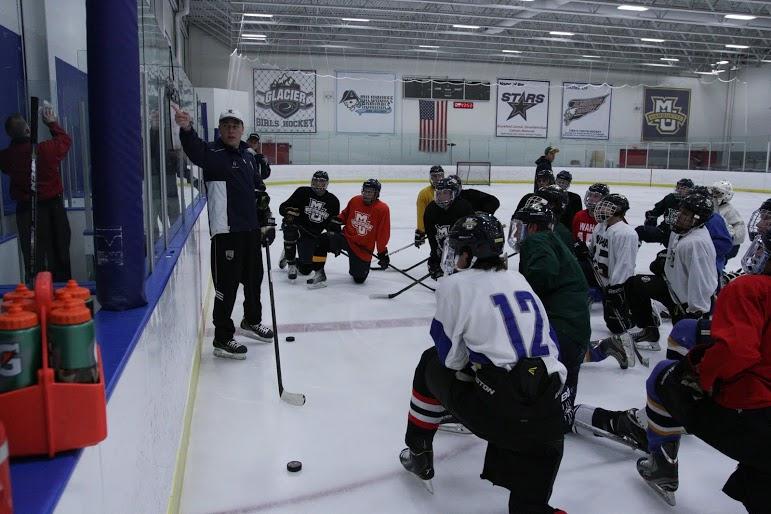 Will Jurgensen grew up in Omaha, Nebraska, and played hockey for 18 years, eventually choosing to attend Marquette because it offered him the chance to continue his hockey career. He played on the Marquette club hockey team for four years, and during his sophomore year he was elected captain. During his senior campaign, Jurgensen helped lead Marquette to the program's first Nationals appearance.
Entering his second year as the head coach of Marquette hockey, Jurgensen holds a 36-11-2 career record and is fresh off an impressive sixth place finish in the Division III Pacific Region of the American Collegiate Hockey Association last year.
"(My playing experience) helps me because I know what it takes to get there," Jurgensen said. "I try not to talk about (the Nationals) team as much, but at the same time there are situations where I feel like we've got to do what that team did."
He made an impact not only on the ice, but perhaps more importantly, off the ice as well. He and several other players in his class established clear executive positions, made plans to bring in funds and even helped hire a new head coach at the time, Joe Cocking.
Almost all of his coaching has been self-taught, like creating strategy for games, drills and of course, forming a team.
"It took me a while to figure this out, but I came into this season under the same idea that we were going to be as good this year as we were when we ended last season," Jurgensen said. "It was kind of a wake-up call, you have to start over."
The benefit for Jurgensen this season, though, is that he knows all of the returning players. Despite this, he's come to the realization that each season brings a new workload.
"I've learned that you can't assume that what happened last season is going to automatically happen this season," he said. "You've gotta start from square one, and you've gotta rebuild for that end goal."
From a player's perspective, returners now know what to expect from their coach, and his short-and long-term goals.
"Coach has always been a great motivator," sophomore goaltender Robby Arner said. "He says the right things at the right times and doesn't beat a dead horse if it seems like we need a break or we're having an off day. He knows when to pick us up and knows when to tell us that he expects more."
Perhaps Jurgensen's best asset as a coach is the fact that he can relate so easily to his players. He's been in the players' positions, literally.
"Coach Jurgensen's best trait is that he is a young guy who just graduated from Marquette a few years ago, so it's easy for him to relate to all of the players," freshman forward Lee Barnes said.
Even with the success of the past year and few months, improvement is constantly on Jurgensen's mind, both for himself as a coach and for his players as a team. He said earlier this season how he was aiming at improving his presence behind the glass.
"I have definitely been better on the bench, understanding when to talk, when not to talk, when to correct guys," said Jurgensen. "Last year I was too loud, and like I said, too emotional. But I do still think I have a lot of room for improvement."
With 15 games remaining, and a very realistic shot at finishing in the top five of the Pacific division, Jurgensen looks to return finally to the Division III national tournament, only this time as a coach.