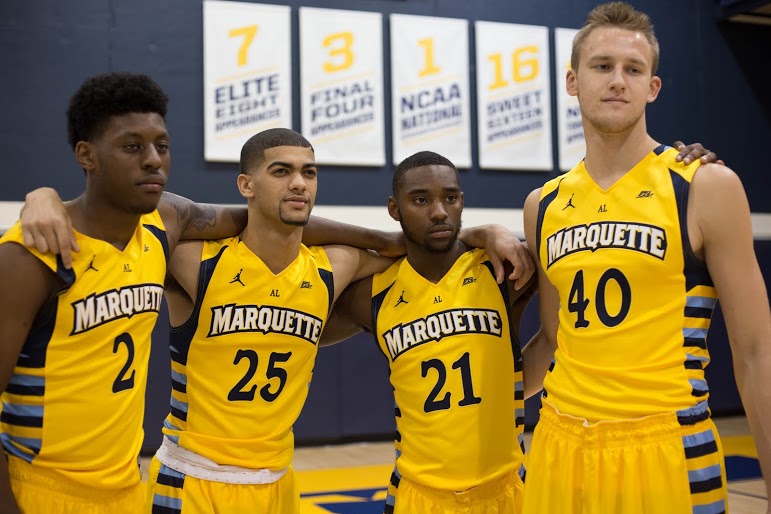 Last season, there was quite a bit of talk about the lack of depth on the Marquette men's basketball team. The team dealt with injuries, transfers and only half of a season with a player taller than 6-foot-7.
This year, it's a different story. Everybody knows about the highly ranked five-man recruiting class that head coach Steve Wojciechowski and his staff brought in, led by 5-star forward Henry Ellenson. Redshirt junior Luke Fischer will finally get a full season of play under his belt, while redshirt sophomore Duane Wilson is expected to have a breakout season. Add a few talented role players, and this could be a special season in Milwaukee.
For the first time in a long time, the pieces are all there for the Golden Eagles. But how will all of those pieces come together when the season starts?
Team practices officially began Oct. 1, which means nothing on the roster is set in stone. Over the next month, Wojciechowski and his staff will figure out which players get starter minutes and who needs more time to develop. The only sure bet so far is Marquette's frontcourt, with 6-foot-10 Ellenson at power forward and 6-foot-11 Fischer at center.
"We're going to be bigger at the basket," Wojciechowski said. "I think our size and length across the board is better, and certainly Luke and Henry are a big part of that. I think those two guys, as they continue to play together, can be a very dangerous combination."
That size and length will be a luxury for Wojciechowski, now in his second year at Marquette, because he only had Fischer for half of last season. With such a height disparity against other teams, Marquette was out-rebounded 35.8 to 31.3 on average in 2014-15. Now, Fischer, Ellenson and 6-foot-10 freshman Matt Heldt will be relied upon in the paint.
Ellenson, who is already being touted as a potential top-10 pick in next year's NBA Draft, is more excited about being able to open up his offensive game while having another 6-foot-10 player on the floor at the same time.
"I've obviously always been the tallest guy on the team," Ellenson said. "Being able to play with other 6-foot-10, 6-foot-11 guys – that's huge, so I can be able to do the stuff I want to do on the perimeter. They attract the defense with their height, so it gives me mismatches in the post."
An unexpected element to Marquette's frontcourt will be freshman Sacar Anim. Listed at 6-foot-5 and 205 lbs, the former high school guard revealed Tuesday at men's basketball media day that he has been practicing at the power forward position.
"It's definitely been a challenge for me," Anim said about the transition. "The first couple weeks it was so tough because I'd never played it before and I'm playing against bigger guys. It was something at first I was a little skeptical about, but I listen to the coaches and I trust them, so going into practice now I'm really getting more adjusted to it."
Anim isn't the only player learning a new position for the upcoming season – the Golden Eagles are trying out a handful of players at point guard.
"We have three guys who can play there and play there well," Wojciechowski said. "Traci Carter, Haanif Cheatham and Duane Wilson… all those guys, at one time or another, will be playing the point guard position and at times all three of them may be playing together."
Cheatham is an intriguing case for Marquette's game plan. He's a 6-foot-5 freshman who was a wing player in high school and has never been given the reigns of the offense.
"I've been working point guard since the summertime," Cheatham said. "I knew that was one thing they wanted me to play when I came here, so I've been working on my game in the point guard role for a very long time. I feel really comfortable with it right now."
Cheatham has a host of former college point guards to show him the ropes. Wojciechowski, assistant coach Stan Johnson, and staff members Justin Gainey and Travis Diener all played point guard at the Division I level.
While Wilson carried point guard duties at times last year, he thrived in the shooting guard role, averaging nearly 12 points per game. Carter is the only true point guard on the roster, and the freshman will surely get minutes as the offensive facilitator.
Even with the influx of guards to rotate in and out, Wojciechowski may ultimately turn to his star, Ellenson, to control the offense when the situation calls for him to take over.
"Wojo gives me the freedom," Ellenson said. "Instead of trying to wait for outlets to get the guard the ball, I can just take it and go. That's just another way to get into our transition quicker. That's a big part of my game and that's something I like to do."