Twitter Tuesday: L'art pour l'art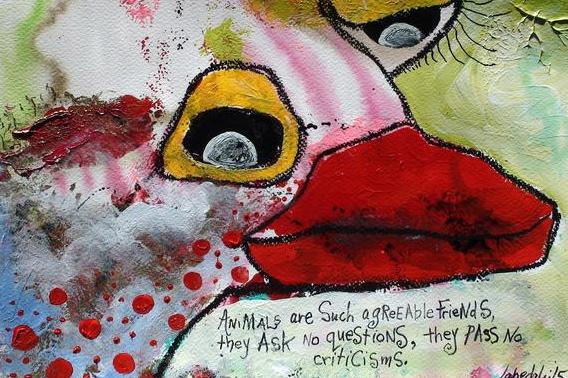 I'm a big fan of art. I see it constantly on my Tumblr page and am constantly awestruck at how some of these artists manage to create such fantastic pieces. This week, I will showcase five artists that are worth checking out. I will focus on those who do art in various media, excluding photography. Potentially, that will be another list in the future.
Annette Labedzki @Labedzki_Art
Annette Labedzki is an artist from Vancouver whose main art style is figurative painting, which means that her work is representational in nature. She also creates augmented photography, but the majority of her work is bright paint on canvas in an abstract style. Overall, her artwork is unique and intriguing enough to wonder what she'll make next.
[email protected]_illustrates
Nadia Kim is a freelance artist. Her work is mostly in digital painting and she excels at creating a deep, immersive environment that has recurring characters. In the corner of most drawings there is a word that defines the main theme of the art and it adds a nice touch. Her work would look great as motivational posters because they elicit emotions from the viewers without being tacky or cheesy. I would recommend checking her out if you want to see art that makes you want to get lost in it.
Amazing Drawings @DrawingX
This isn't really a Twitter account of one artist, but the account showcases a lot of interesting art from around the internet. This 2D art account displays many types of styles, including pen, painting and watercolor from artists who do it best. I will say that it's disappointing that much of the art isn't credited to those who actually created it, but it's a good place to start if you want to find out what the Internet has to offer as inspiration for your own art.
Wenqing Yan @Yuumei_Art
This artist is interesting. Her Facebook page says she's an art major graduate at UC Berkeley with a focus on environmentalism and cyber activism. She learned most of her skill traditionally through classes, as well as independently through the online art community of Deviant Art. With a blend of her Chinese roots and American flair, she creates sharp and crisp art that is surreal and realistic at the same time. She's truly a talented artist who needs to be seen.
Peter Gric @gricp
Peter Gric is a testament to where art is at this point in time. His style is a blend of the new and the old art techniques, focusing on the human body placed in a technological setting. They're not portrayed to be a dichotomy of each other, but rather humanity and technology are coexisting and, in some cases, in union. They're mathematical and otherworldly, part alien and part familiar.