Volleyball freshmen are adjusting to work load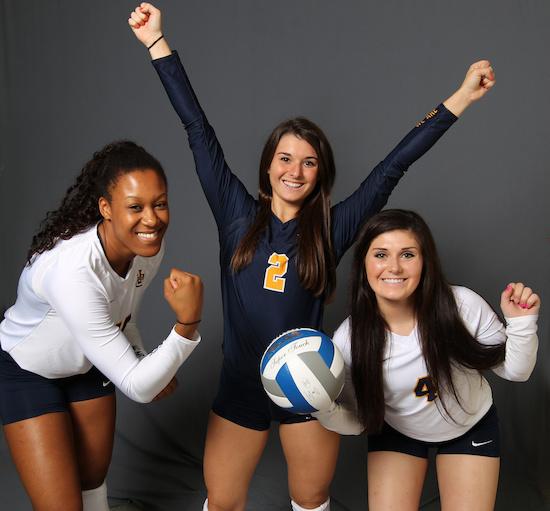 The new school year at Marquette is less than a month old and the freshmen are still settling in, figuring things out and taking the first step on a long journey of self-improvement.
For three freshmen in particular, this process means bruised knees, two-a-day practices and the burden of building a legacy.
"During the summer, we'd have morning practice from eight to 11, have a small break or do some lifting, and then have another practice from two to five," said freshman outside hitter Amanda Green. "The only free time you had was when you went to sleep."
The Marquette volleyball team welcomes three freshmen this year: Green, defensive specialist Riley Burchett and defensive specialist Abby Julian. Their task? Be the future go-to players for one of the best programs in the country.
When asked what would make the upcoming year great, Burchett immediately said, "a lot of wins."
Green, a native of Skokie, Illinois, is the only outside hitter in Marquette's current crop of freshmen. She's an imposing spike artist with a cheerful, outgoing personality and is charged with eventually being the primary producer of kills for Marquette's offense, a difficult endeavor.
"I have to communicate whether the pass is short or deep, where the hitters are, what the setter is going to do and little things like that," Green said. "I had experience with that before, but at the college level it's way more intense."
If Green had a polar opposite on the team, it may very well be Burchett, the defensive specialist out of Burr Hills, Illinois. She has played in all 24 sets this season. Her soft-spoken demeanor fits her position, which entails relative anonymity in the box score. However, her role is every bit as important as her any other player on the team, and every bit as demanding.
"I need to be able to be more focused on the court," Burchett said. "I also need to not mess up in service and stuff like that."
Finally, there's Julian. The workmanlike defensive specialist out of Lewis Center, Ohio, immediately won praise from head coach Ryan Theis, who referred to her as the "ultimate gym rat" back in May. Ever since she arrived on campus, Julian has worked hard to understand the intricacies of the Division I game.
"The biggest adjustment for me was trying to learn new positions on the court," Julian said. "I was a setter for seven years for club (volleyball), and so I haven't had too much practice with serve receive."
Theis plans to redshirt both Green and Julian. And while many would consider this a bitter pill to swallow – having to put in the work in practice without the payoff of playing in games – Julian seems to have put matters into perspective.
"I knew coming in that I wasn't going to play much because I'm doing new things that I'm not familiar with," Julian said. "Every girl on the court earned the right to be there and this only pushes me to work harder and hopefully earn it too."
The volleyball freshmen all have lofty goals off the court as well. Julian said that she wants to obtain a master's degree in occupational therapy, and Burchett said that she hopes to pursue a double major. Green talked about her desire to become a leader both on and off the court.
Marquette volleyball fans ought to remember the names Green, Burchett and Julian, even if they don't hear them much this season. Their efforts next year and beyond will determine whether or not Marquette can build upon their recent winning ways.
Leave a Comment