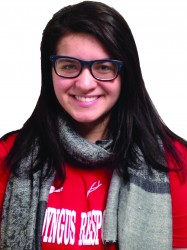 Last week, I was one of the students selected to have lunch with University President Michael Lovell to ask questions and speak with him and other students about the university.
I walked away from the lunch with mixed feelings. I was partially disappointed because no one seems to really know what's going on, partially hopeful because Lovell and the administration seem to genuinely want to holistically improve the university and partially upset because my plate was cleared before I was done eating.
We'll start with the disappointment first. It is an admirable first step to have these lunches as a way for students to offer their ideas and share their concerns. Our lunch, however, felt more like a Q-and-A and less like an open discussion. This would have been fine, but the quality of those Qs was much higher than the quality of the As for the most part.
To be fair, the purpose of the questions was not necessarily to find out what was being done about students' concerns, because if the university does not know about these concerns, then there's no way to fix them. Yet some of these concerns in the process of being addressed, like the lack of diversity, seem to be lacking in further action potential.
Perhaps I'm being unjustly harsh, but the university seems a little too proud of what it has done so far. Certainly, the establishment of the Center for Intercultural Engagement and the Diversity, Inclusion and Social Justice Committee are wonderful but we can't stop there.
In that regard, I got the impression the university is ready to rest on its laurels. It's placated the students who made noise about those issues, and now they can take a breather before adding to those initiatives. There was a lot of talk about evaluating the success of these initiatives and deciding what to do next. However, the administration as a whole does not seem to know what can be done next to keep improving.
But enough of my ever-present bitterness. Despite my vexation with the uncertainty of any new directions for more positive change, I was still very pleased with the attentiveness shown to actually listening to students' concerns. The fact we were even in this lunch setting with the opportunity to speak to Lovell bodes well for the accessibility of the administration.
Even if the answers weren't everything I hoped they would be, there was still an attempt to answer and inform students on what is being done. And if there was nothing being done, the issue was acknowledged and noted as something the administration should look into.
The existence of this lunch opportunity is a sign students are being listened to and that our concerns are valid.
I acknowledge some of the problems discussed are not unique to Marquette. Some of these problems exist at universities across the country. If everyone is struggling with the same issue, then it probably isn't an easy fix. So I shouldn't be too hard on the university for being unsure of how to address issues like gendered housing and the best way to assist undocumented students. Efforts to fix nationwide issues in a Marquette microcosm should be scrutinized, but also lauded.
At the end of the day, I just hope the university doesn't waste the momentum it has built in terms of working toward addressing students' concerns, whether those concerns have to do with academics or student life. Let's not pat ourselves on the back too soon, because we need to keep going.
Finally, I was annoyed that they took my sandwich away before I was finished. Yes, it was a sub-par Sodexo sandwich, but I still wanted to eat it. Maybe that's an initiative the administration can tackle next: not clearing the plates before students are done eating.
Story continues below advertisement