Dental school proposed to receive $2 million in funds from state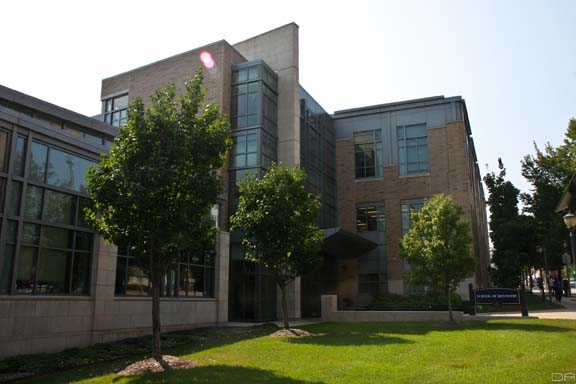 The Wisconsin Building Commission unanimously supported filling funding needs for development at the School of Dentistry with a $2 million grant.
The grant would come from Gov. Scott Walker's 2015-'17 capital budget pending approval from the Legislature and contingent upon the university matching the $2 million from non-state sources.
"State agencies have the opportunity to make requests for the capital budget for each budget," said William Lobb, dean of the dental school, in an email. "While the Marquette University School of Dentistry is technically not a state agency, the school is Wisconsin's only dental school and has been the state's education partner for over 120 years."
The State Building Commission unanimously recommended this project as part of the capital budget after the dentistry school officially requested the grant through an application.
"The request will support changes to the current facility and will specifically expand the pediatric dental clinic, as well as create the first Periodontology Graduate Program in Wisconsin," said Mary Czech-Mrochinski, director of governmental and community affairs.
Lobb said the money will also increase access to care for Wisconsinites.
"Expanding the pediatric dental program is critical to the MUSOD's ability to increase the capacity of the main pediatric clinic to meet the oral health needs of children, particularly the under-served," Lobb said. "Additionally, the creation of an advanced periodontology training program will address the current and projected shortage of periodontists in Wisconsin and meet a periodontal access to care need for patients in the state."
Assuming the $2 million from non-state grants is raised, Lobb said the project would take nine months to complete.
Czech-Mrochinski said the School of Dentistry served nearly 30,000 patients from 66 of Wisconsin's 72 counties from July 1, 2012 through June 30, 2013. Of these totals, nearly 2,900 patients were children.
"MUSOD truly is the state's dental school and as such has been able to make a strong case for capital budget funding in previous budgets to proactively address the dental workforce needs of Wisconsin," Czech-Mrochinski said.
Lobb said he is grateful for the state's continued support and investment in the School of Dentistry.
"Marquette University School of Dentistry has been Wisconsin's dental partner for over 120 years and looks forward to continuing to serve Wisconsin's citizens in its clinics, educating the next generation of dentists and collaborating with its partners statewide to help meet the oral health needs of Wisconsin residents," Lobb said.