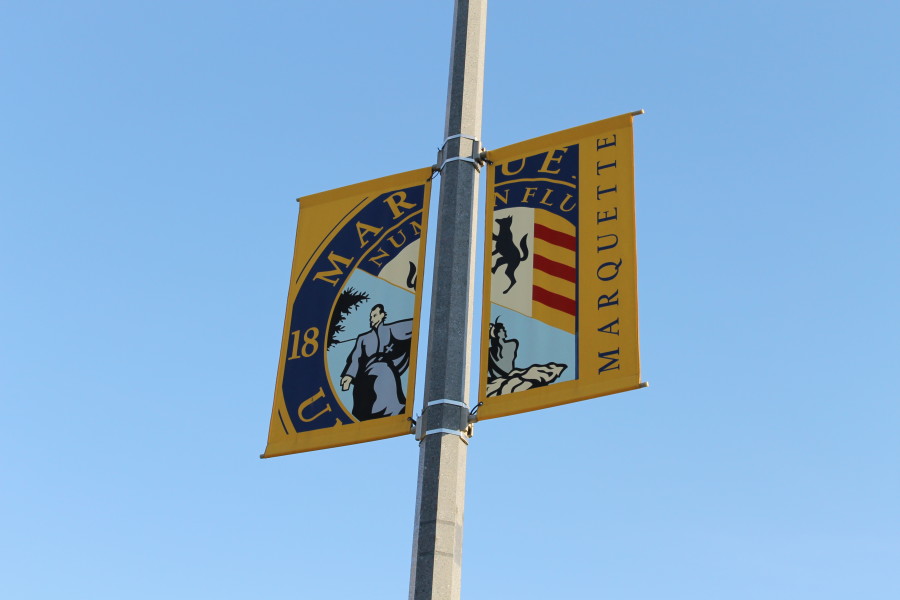 As we go through Black History Month and participate in the university's campus climate survey, it seems necessary to look at the progression and success of minority students who have graduated from Marquette. Luckily, the Educational Opportunity Program, produced a short film that encapsulates the power of connecting with students and providing them with an opportunity to not only hurdle obstacles and graduate, but also inspire others to succeed and impact their communities.
The beginning of "Answering the Call" begins with former president Lyndon B. Johnson talking about voting rights and providing people with the opportunity to interject their thoughts and views. Soon after, the scene shifts to Milwaukee, where footage displays Marquette students and Jesuit priests walking together and making their voices heard. Using past footage to illuminate the current climate of the EOP gives viewers context and relevance, two aspects of film that are vital to connecting with the audience.
Alumnus Maureen Hoyler, a former staff member of the EOP,  Arnold L. Mitchem, the first director of the EOP and Rep. Gwen Moore, part of the EOP's first graduating class, all give their takes on the struggle to form the EOP, previously called the Program for Culturally Diverse Students. Getting first-hand accounts from people who experienced the rigors and turmoil of helping low-income and first-generation students provides instant credibility, an issue that films and documentaries have displayed with when depicting an accurate historical narrative.
The production of the documentary is outstanding, capturing scenery throughout Marquette's campus including the St. Joan of Arc Chapel and numerous academic buildings like Lalumiere Hall. Likewise, obtaining interviews with current students allows viewers to see the parallel between past and present, which includes the EOP and similar programs, and how their journeys all are distinct yet similar since EOP provides community.
With race relations at the forefront of political and social issues, it was refreshing to see how the EOP is primarily focused on assisting students in their program with financial assistance before looking at race. Yes, socioeconomic status is somewhat connected to the racial divide in Milwaukee, noted as one of the most segregated cities in America. But the documentary shows that EOP is concerned with providing minority students a chance to engage with Marquette in their Upward Bound program, attend school at Marquette while being a part of the Student Support Services program. This allows them to pursue other opportunities including post-secondary schooling, employment and most importantly, success in the real world.
Effective documentaries relive pertinent details and observations about an idea, project or person, and "Answering the Call'' goes through a series of events to show the progression of Marquette from 1969 until 2015. This timeline of events allows for continuity and gives the audience a chance to follow along to see where they have gone and where they plan to go.
The genuine nature of the film also resonates with viewers for its empathy and understanding, two emotions that sometimes are ignored when dealing with social issues and educational matters. Learning about individuals' stories helped me stray away from making generalizations and gave me an opportunity to dive deeper into what motivates and drives people toward success.
As a black male student on campus, it is sometimes hard to overcome a certain stigma and stereotype. Yet the short film can provide any person—whether they be black, white, female, gay or straight—a ray of hope. Marquette and the EOP are geared to change the lives of students and people in the Milwaukee community and beyond through scholarship and leadership. That is how you a respond to a message and answer the call.
The short film can be viewed here: