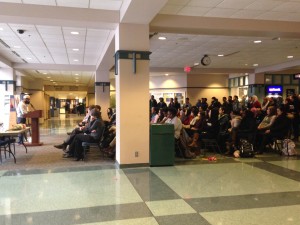 Roughly 150 members of the Marquette community gathered at the Alumni Memorial Union Friday to mourn the three victims killed at the Chapel Hill shooting Wednesday at a vigil organized by Marquette's Muslim Student Association.
The three college students were shot dead in their home in Chapel Hill, N.C. in what allegedly been called a hate crime and has gained international attention. The students have been said to have been targeted because of their Islamic faith and inspired the trending Twitter hashtag #MuslimLivesMatter.
"I want this community to know that under no uncertain terms, we value you, the richness of Islamic culture and the wealth it brings to us," said Christopher Miller, vice president of Student Affairs, at the event.
Deah Barakat, 23, was a second year dental student at the University of North Carolina School of Dentistry, and his wife Yusor Abu Salha, 21, was planning on studying at the dental school next year. Her younger sister Razan Abu Salha, 19, was a freshman at North Carolina State University.
The students were said to be known in their communities as compassionate advocates. Barakat was in the process of planning a trip to Turkey to provide dental services to Syrian refugees.
The FBI is further investigating their deaths, and a police report said the dispute that lead to the shooting began over a parking space. Craig Stephen Hicks, 46, was arrested and charged with murder.
Vigils have been held all over the country to celebrate the three lost lives and to encourage messages of tolerance and love.
Students, staff, faculty and community members filled every seat at the Marquette vigil and crowds stood around on every side of the room.
The service opened with a letter sent by University President Michael Lovell, who was out of town, and was followed by a series of speakers including Amir Khalil, president of the Muslim Student Association; Kyle Welton, Marquette Student Government President; and Mary Sue Callan-Farley, director of Campus Ministry.
The speakers expressed grief and discussed the lives and characters of the students who lost their lives. They spoke along broad issues of fear in diversity and common humanistic beliefs among all religions.
Several speakers quoted encouraging passages from the Quran. Marquette administrators showed their support for those hurting and for groups of students who they said may feel marginalized on campus.