Golden Eagles earn No. 1 seed for MACHA Tournament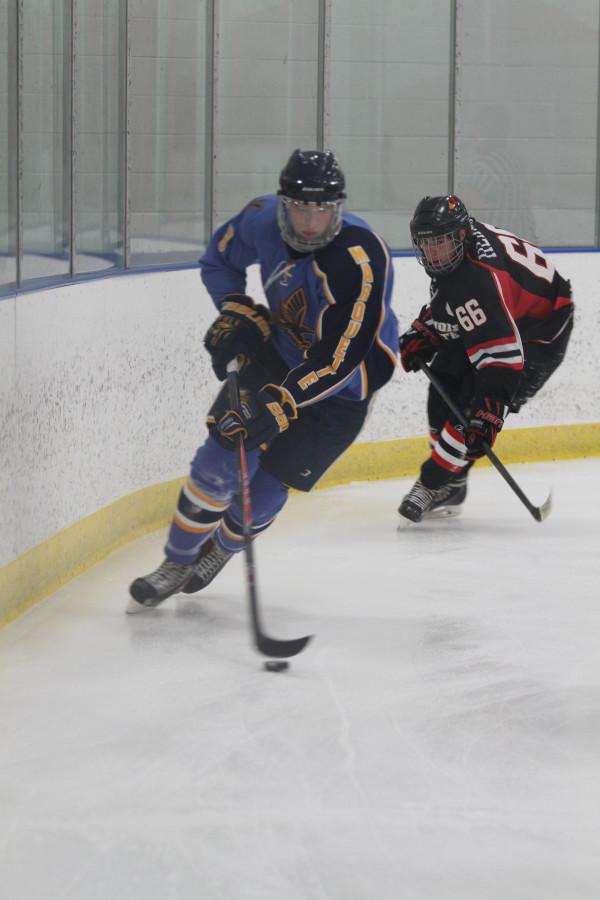 Sterling Silver
February 10, 2015
The Golden Eagles (27-7-1) concluded their regular season on a high note, finishing with a 10-game winning streak after sweeping Aurora. The wins also secured the No. 1 seed for the Golden Eagles heading into the Mid-America Collegiate Hockey Association regional tournament next weekend at Peoria, Ill.
Marquette played on the road for half of the series at Aurora, Saturday. Marquette held a tight 2-1 advantage through most of the game thanks to goals from sophomore John Stillman and freshman Marc Shipbaugh. But a late score with only 20 seconds left in the third period from Aurora tied the game late and the matchup looked like it was headed for overtime.
However, Stillman responded with late-game heroics of his own, taking the puck down the ice by himself and scoring on a slap shot with only six seconds left on the clock. The Golden Eagles closed the last six seconds and won the nail-biter, 3-2.
In the home half of the series Sunday, Marquette returned to the Ponds of Brookfield. But unlike Saturday's affair, the Golden Eagles looked like a different team and annihilated Aurora 14-4. Six first period goals for Marquette quelled any chance of a comeback for Aurora. Stillman continued his strong weekend offensively with four goals and Morrow had two of his own in a very balanced scoring effort across the board.
The breakout performance set a number of season records for the Golden Eagles. Fourteen goals is the highest total for the Golden Eagles in a game this season and the most since scoring 11 times against Northern Illinois in late October. Individually, Stillman's four goals were the most in a game by anyone on the team all year.
Senior assistant captain Tyler Schwichtenberg explained why the team was so effective offensively on Sunday compared to Saturday.
"We knew it was the last regular season game and we wanted to end it with a win, especially the seniors, since it was our last game at the Ponds," Schwichtenberg said. "The goalie for Aurora was different and we wanted to test him early and we did by scoring six first period goals. The biggest difference between (Sunday's) game and (Saturday's) game was that we moved the puck well and controlled the tempo of the game."
The sweep also gave Marquette the easiest route to the Silver Championship in the MACHA regional playoffs. The team's first matchup will be a rematch against rival Wisconsin-Platteville, an opponent that has played Marquette to numerous one-goal affairs during the last four seasons. The winner will play either No. 4 Missouri State or No. 5 Lewis University for a chance to go to the title game Sunday.
Senior captain, Matt Vuoncino believes the combination of different experiences throughout the season have prepared the team for success in the playoffs.
"I think you have to look at the entire year as a process of getting ready for the next two weeks," Vuoncino said. "No matter how well we did, it was pretty much going to boil down to if we can win a handful of big games these two weekends. Our offense is clicking, our defense is strong and our goalies are confident. The most important thing, I believe, is that we have proven to ourselves that we have the heart to dig deep and win those tight games late."