Best playlists on Marquette's Spotify channel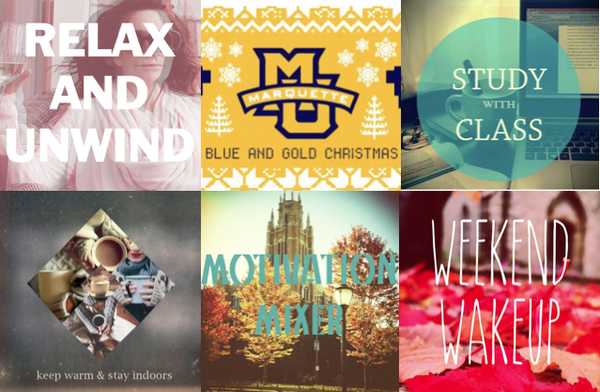 Marquette recently joined the most popular commercial music streaming application with its own Spotify account. The channel, "marquetteu," offers students a number of playlists which are constantly updated. They were created to apply to several different situations and occasions, from studying for exams to hitting the gym. Here are just a few of the delightful playlists that "marquetteu" has to offer.
Run Out Ahoya:
The name "Run out Ahoya" is a clever reference to Marquette's beloved fight song,
"Ring Out Ahoya," which is played during Marquette's home basketball games to excite both the players and fans. With that in mind, the play on words is a fitting title for this particular playlist. It features stimulating hits from a diversity of eras, beginning with three of the tremendously inspirational super-group U2's most popular songs, including "Where the Streets Have No Name." The playlist then drastically shifts toward a more contemporary selection with "Mr. Brightside" and "Somebody Told Me" by The Killers. For those who don't necessarily associate their musical interests with the genre of rock, the playlist also features some of the most iconic pop stars and pop songs of the 80's like "Thriller" by Michael Jackson, as well as "I Wanna Dance with Somebody" by Whitney Houston. While "Run Out Ahoya" contains a variety of different genres of music, the ultimate objective of the playlist is to rouse and stimulate listeners, a goal it certainly accomplishes.
Relax and Unwind:
In contrast to the exhilarating motif of "Run Out Ahoya," this playlist was created in order to help people do exactly what the title suggests. "Relax and Unwind" strays from the inclusion of especially popular songs from a specific genre or era and instead features a much more obscure selection composed of tranquility, including such smooth and comforting songs as "Coffee" by Sylvan Esso and "Rhye" by The Fall. Rather than bombarding listeners with tediously catchy lyrics or generic melodies, this playlist strays from mainstream music to envelop listeners in an atmosphere of repose. Sometimes it's nice to not know the words, contrary to conventional belief. It provides listeners with the opportunity to appreciate music without having to be consciously engaged.
One for the Road:
Another pick from the "marquetteu" playlist acts as something of a balance between the two contrasting playlists that precede it. While it features colossal rock and roll musicians like Led Zeppelin and Bruce Springsteen, the songs selected are from the lighter side of these artists' individual catalogues, such as "Going to California" and "Mary Queen of Arkansas," respectively. This playlist features songs that aren't quite as mundane as the songs on "Relax and Unwind," but they also fall short of the intensity of the music on "Run out Ahoya." Subsequently, it suits listeners whose musical preferences lie somewhere between two extreme poles on the theoretical genre scale.