Second half meltdown leads to Marquette's 4th straight defeat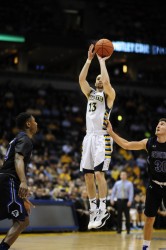 Marquette (10-10, 2-6) dropped its fourth straight Big East game and lost its sixth of eight in an 80-70 loss to Seton Hall (14-6, 4-4) that wasn't nearly as close as the final score indicated. Wednesday's defeat sealed Marquette's first four-game regular season losing streak since 2009.
Senior Juan Anderson said there are two sides to approaching his team's skid.
"I don't want to be too concerned because there's a lot of basketball to be played," Anderson said. "But then again, it's kind of like, 'When are we going to stop losing?' We could always say, 'Oh we'll get the next one,' but we've been saying that since Xavier, St. John's, Georgetown, now this."
Things got out of hand in the second half. Marquette exited the halftime locker room trailing by only four points in what appeared to be another close Big East tilt.
That was until Sterling Gibbs, the third-highest scorer in the conference, awoke from his slumber. The guard had just five points in the first 20 minutes, but broke out for 19 points in the second frame on 7-of-9 shooting and went on an unprecedented run that put the game out of reach.
The game was essentially over just seven minutes into the half. The Pirates started the half with a 3-pointer by Khadeen Carrington. Anderson answered with a lay up to trim the lead to five, but that was the closest Marquette would get.
Gibbs kicked off the insanity with a jumper for his first points of the half, followed by a Brandon Mobley three to put Seton Hall up by 10. An Angel Delgado jump shot extended the lead to 12, then Gibbs nailed his first three of the half to make it a 15-point margin.
After two dunks from Mobley, Marquette ended Seton Hall's 14-0 run with a free throw by freshman Sandy Cohen III, but the Pirates countered with an 11-5 run, capped by Gibbs' sixth straight basket to go up by 24 points with 12:51 to go. The Pirates went on a 28-8 run in the first 7:09 of the second half.
Graduate senior Matt Carlino led the Golden Eagles in scoring with 16 points. Cohen was the second-leading scorer with 11 points and both Anderson and fellow senior Derrick Wilson scored 10 points apiece.
The Pirates finished the game having made half of their 3-point tries. This performance was uncharacteristic of Seton Hall, as the team entered Wednesday night shooting just 33.9 percent from beyond the arc. This forced Wojciechowski to shift from his typical 2-3 zone defense into a man-to-man.
Coach Steve Wojciechowski said he thought his team was affected by Seton Hall's gaudy shooting performance in the opening minutes of the second half.
"I think we got knocked back by their shooting to be quite honest with you," Wojciechowski said. "On the year, they've been a 27 percent 3-point shooting team in Big East play. Obviously they weren't tonight."
Wojciechowski said he thought his team didn't bring enough effort into the second half.
"I thought we were a little bit flat and our margin for error is not very big," Wojciechowski said. "We have to do most things right to have a chance to win and tonight we faced a team that played a great game and we didn't do most things right."
The Golden Eagles are 2-6 in conference play, but they have been mostly competitive, even during the three losses prior to Wednesday night. The loss to the Pirates was the first time Marquette had let a game get out of hand.
Wednesday's 10-point loss felt a lot different than last Saturday's 10-point loss to Georgetown, but Wojciechowski said that all defeats are treated equally.
"They're all gut punches for me," Wojciechowski said. "I don't like to lose, so when you lose, it's a gut punch."
When asked whether he could take any positives out of the loss to Seton Hall, Wojciechowski used one simple word to answer.
"No."
There aren't many positives to take out of the recent lull Wojciechowski's bunch has endured. Most nights, his team has been just good enough to win, but have discovered ways to come up short. This most recent loss was the culmination of a season that has had its share of close calls.
Marquette has been praised all season for playing extremely hard for all 40 minutes regardless of the outcome. For the first time this season, it appeared Marquette's spirit had a chink in its armor.
Leave a Comment