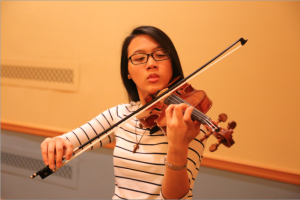 Being a full-time nursing student already has its challenges. But try adding on the responsibilities of a first-chair violinist and the workload of being a member of a string quartet.
Then you might get a glimpse of what it is like being Mary DeAsis, a senior in the College of Nursing and the concertmistress of the Marquette Symphony Orchestra.
A typical Monday for DeAsis looks something like this:
Waking up and going to class from the morning until 4:45 p.m.
Heading over to the Varsity Theatre for orchestra rehearsal from 6:30 to 8:30 p.m.
Rehearsing to play at the St. Joan of Arc Chapel mass at 9 p.m.
Actually playing at the Joan of Arc Chapel, from 10 to 11 p.m.
Rushing home to sleep so she can get up at 5 a.m. for her clinical study at St. Luke's Medical Center the next day
Somewhere in the cracks of her schedule, DeAsis manages her homework and any extra personal practice time. And oh yeah, she also sings during mass at the Chapel of the Holy Family in the Alumni Memorial Union.
DeAsis has been playing violin for 17 years, starting when she discovered the instrument at a Christmas concert when she was four years old. She developed her skills alongside her brother and in youth orchestras in her hometown of Arlington Heights, Ill.
"I learned a lot about playing with other people," she said. "Then I kind of just worked up from there."
By the time she was a senior in high school, DeAsis was a member of five different performing groups. Although she is studying to follow in the footsteps of her mother to be a nurse, she could not resist joining Marquette's orchestra her freshman year.
"I put all this time into (music), I knew I could not give it up," she said.
A concertmistress (or concertmaster for a man) is the second-most important person in an orchestra (the conductor being number one). They sit to the left of the conductor and are tasked with counting rests and observing the conductor for the rest of the section. That requires the concertmistress to be the most skilled violinist in the ensemble, often being most familiar with the music and taking on the difficult solos in the work being played.
"Mary has been a great leader for the orchestra as the concertmistress," said Jason Ladd, conductor of the orchestra. "The other members of the orchestra respect her because of her strong musicianship and calm demeanor."
Oddly enough, DeAsis has been playing with a few of the people at Marquette's orchestra since high school. That, on top of having worked with many of the musicians since freshman year, contribute to the "goofy" atmosphere DeAsis said she loves.
"We've been in this for four years together," DeAsis said. "We've developed some really good friendships and that really helps us to play together. There's always a good collaboration."
Playing in the orchestra can be done for academic credit, but DeAsis is now taking part in it for fun, filling in a good chunk of her Monday and Wednesday afternoons.
It's also a side-career that offers a few gigs that pay pretty well. DeAsis and a group of a few other string musicians formed a string quartet that performs at classy events on campus and at a variety of locations around the city. She also found her way onto a stage performing with Mark Wood, an Emmy-winning electric violinist and one of the founding members of the Trans Siberian Orchestra.
Her experiences playing music with friends at college also introduced her to more improvisational performances. Every once in a while she and her friends bust out their guitars, basses and cellos for their own jam sessions.
"Music can help you express yourself in ways that words can't," she said. "I'm not a very good speaker, but feel like I can convey what I'm feeling by how I play."
Music has been such an important outlet for DeAsis that she said the idea of giving up playing for mass or playing for the orchestra to fit in her nursing schedule "broke her heart," so she found ways to keep the music in her schedule.
DeAsis plans on graduating this spring and finding a job in nursing to get her feet wet in the industry. But she also said she has no plans on dropping her music career whatsoever.
"I always wondered how it'll work," she said. "But I won't give it up."
Story continues below advertisement