The price of preparation: How technology is contributing to the cost of attending Marquette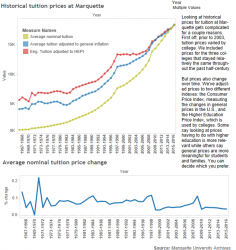 Even as a freshman, engineering major Dana Morgan's classes are littered with technology.
In her first semester as a college student, Morgan's engineering classes featured a Roomba (robot vacuum) to delve into programming, an electrocardiogram to explore the basics of biomedical engineering and a computer-aided design program. The program allows students to create three-dimensional designs on their computers  to study electrical engineering.
Morgan said she believes this technology is an essential element of education to prepare students for careers in a continuously advancing world.
"It is increasingly becoming an essential part of our everyday lives and so much of engineering and the business world is run by technology, so being introduced to it now is essential in preparation for our jobs in the future," she said.
But her experiences also underscore a cost element for universities, one that helped to drive the influx of tuition prices and the rising need for technology, for both academic and administrative purposes.
Marquette's Office of Finance identified technology as one of its key cost-drivers.
Fifteen cents out of every tuition dollar helps cover the cost of technology through student support costs, according to data from Marquette's Office of Finance. These student support costs also pay for public safety, academic support services, residence life and recreation services.
These costs come in as the third-highest cost on the tuition dollar, behind faculty and staff salaries and benefit, at 49 cents from every dollar, and tuition discount student scholarships, at 22 cents from every dollar.
Still, Morgan said she thinks it's all worth it.
"I think that because I am an engineering major it has a more technological focus than other majors may have, but I still think it is important because technology is the future and there are so many advancements to be made," Morgan said. "Exposure to technology allows for quicker reception of new products and better understanding."
ADMINISTRATIVE TECHNOLOGY
Marquette's finance department allots annual funds to its information and technology services each year, but that amount has actually fallen over the past four years, from $16.4 million in 2011 to $14.6 this year.
This money covers salaries, benefits, supplies, new equipment and special projects that are overseen by Information Tech Services, said Vice President of Finance John Lamb in an email.
Additionally, Lamb said some recent technology projects completed by ITS include upgrades to D2L and CheckMarq, adding and upgrading DPS cameras as well as their radio system to allow direct communication to the Milwaukee Police Department and implementing an electronic time keeping system for student workers and hourly staff members.
Technology is one key cost-driver of tuition rates, according to a New York University study. Since 1994, the percentage of college courses that utilize technology has risen significantly.
To accommodate this rising number of courses, institutions need to provide the appropriate equipment for faculty and students, as well as upgrading older campus buildings to create the proper infrastructure. As the study states, increasing costs for technology has "almost certainly" created higher tuition prices for students.
Although the study shows that at some point technology might make educational operations more efficient and less costly, there is no evidence to suggest this is currently the case.
Lamb also added that this budget is primarily funded through Marquette's operating budget, which is mostly made up of tuition money. However, this ITS budget does not fund technology at the college level. Instead, colleges must rely on donations and grants to provide funding.
COLLEGE-LEVEL ACADEMIC TECHNOLOGY
 Lamb did not provide academic technology expenditures for each college, but some colleges are able to avoid covering costs with general tuition revenues.
"We have to fundraise to cover technology costs," said Kristina Ropella, interim dean of the College of Engineering. "All of our computers and labs are funded by donations. The university budget does not cover our lab and equipment needs."
While Ropella did mention that the College of Engineering considered the option of differential tuition rates or fees to help cover some of these costs, she also said that at this juncture, the College of Engineering thinks it is best to stick with their current course of action.
"One way you see a lot of schools deal with this problem is they cannot do fundraising and use a misleading tuition rate but charge their students a lot in fees," said Mark Federle, associate dean for academic affairs.
For example, donations to the College of Engineering covered the funding for many labs, including the three-dimensional visualization lab, referred to as MARVL.
"The university does a pretty good job with providing the basics, like computer stations and software," said James McGibany, executive associate dean for the College of Business Administration. "However, some materials are too narrowly focused in that just our college uses them, so we need to fundraise for that equipment. For example, we used money from fundraising to purchase a virtual interview television screen used by our students to conduct interviews with a potential employers out of state."
But this has not always been the way the university funded more expensive majors.
In 2003, Marquette consolidated its tuition prices for all students, but before this point students paid different rates based on the college they attended. Prior to this, the College of Business and College of Engineering consistently had a higher tuition cost than the College of Arts & Sciences by a couple hundred dollars every semester.
For example, in the last semester before consolidated rates began, a student enrolled in the College of Arts & Sciences paid $9,090 for the semester, while a student enrolled in either the College of Business  Administration or College of Engineering paid $9,340 for that same semester according to data retrieved from Marquette's Archives.
A contributing factor to these consolidated rates over the past 12 years may be to foster equal student interest in majors. Colleges often consolidate prices to encourage students to choose the major they want to pursue as opposed to costlier degrees. One Cornell University study illustrates the possible link between tuition cost and major choice.
Other colleges across Wisconsin, like University of Wisconsin-Madison and University of Wisconsin-Milwaukee, charge differing tuition rates depending on if the student lives in state or not, as well as the number of credits they are taking for a given semester.
The University of Texas at Austin, however, charges different tuition rates based on major, with its most expensive majors being business, nursing, geosciences and engineering and the cheapest being liberal arts and education.
Regardless of whether the money comes from tuition or privately funded grants, Lamb said he feels every student has access to the appropriate technology.
"Be it through operating budgets or grants, Marquette strives to provide the materials that faculty need to provide students with a world-class education and to advance their research no matter their area of expertise or study," Lamb said.
Leave a Comment