Fischer shines as Golden Eagles reel in win versus Sun Devils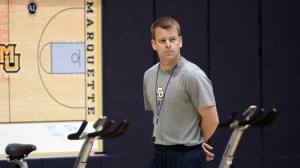 Luke Fischer may not be the answer, but he's certainly part of the winning equation.
The redshirt sophomore scored 19 points in his Marquette debut, a 78-71 victory against Arizona State. Fischer also bringing down nine rebounds and had five blocks. He shot 9-of-11 from the field, and made one free throw in his two attempts. Fischer's 19 points set a career-high.
Fischer said it was exciting to be back on the court and have such a good game.
"It feels great," Fischer said. "I don't know if it could have gone any better … tonight was perfect."
Coach Steve Wojciechowski said he loved what he saw from Fischer in his first game.
"(I was) incredibly impressed," Wojciechowski said. "For him, after a year and a half, to come in his first game and be a presence on both ends of the floor, and really to give us an amazing spark, was a terrific performance. He impacted the game in so many ways."
Even with his outstanding game, Fischer did not finished with the team high in points; that honor would go to sophomore Jajuan Johnson. Johnson also set a career-high in points, netting 22 on 10-of-16 shooting. Redshirt freshman Duane Wilson also put in a solid effort, finishing tied with Fischer with 19 points. However, Wilson did have one blemish, as he shot 9-of-17 from the charity stripe.
Wojciechowski said Marquette is a team that depends on every player to get points.
"We're a team that needs to score together," Wojciechowski said. "We're a team that can have any of a number of guys step up and have big games."
Having Fischer ignited the Golden Eagle offense, something the team hadn't seen all season. Marquette assisted on 23 of its 28 made baskets, and notched 41 bench points, mostly because Johnson and Fischer came off the bench. And finally being able to utilize Fischer's size, the Golden Eagles scored 42 points in the paint.
Wojciechowksi said it was a point of emphasis to improve the offense, and attacking the paint was a main point.
"The basket's going to look bigger when you're able to get easy baskets," Wojciechowski said.
With the three-headed monster of Fischer, Johnson and Wilson, the Golden Eagles got ahead of Arizona State early and continued to build a lead. The Golden Eagles would eventually have a 21-point lead on the Sun Devils, but Marquette wouldn't be able fully close the door. Poor shooting and turnovers allowed the Sun Devils to claw back into the game. But the team would be able to cut the lead to seven before the final buzzer sounded.
Despite a struggling final minutes, the Marquette defense benefitted greatly from finally having a true big man. The Golden Eagles held Arizona State to a 38.7 shooting percentage in a game where the Sun Devils took 62 shots. Because of Fischer, Marquette barely lost the rebounding battle, 34-32. All but three of those were defensive rebounding, which limited Arizona State to just 13 second-chance points.
Wojciechowski said he believed the team played its best man defense of the season.
"I thought our activity on the defensive end was good," Wojciechowski said. "I was really pleased with how we defended them. They've been a very efficient offensive team, and I thought we did a really good job of taking them out of their rhythm. "
After losing Deonte Burton and John Dawson to transfers, getting Fischer on the court for the first time all season was a welcome addition. He won't make the Golden Eagles into an NCAA Tournament team by himself, but his game definitely makes the Golden Eagles a better team. The Golden Eagles play Alabama A&M Friday night in the Al McGuire Center at 7 p.m.
Leave a Comment