Dr. Chow's Love Medicine is what you need
By Colleen DuVall
Dr. Chow's Love Medicine may be your cool dad's rock band, but so what? You should do yourselves a favor and check them out. They are a true Milwaukee staple on the local band scene. Unique, sassy, kooky, infectiously bliss-inducing – they make you dance whether you want to or not. They have an extremely loyal following, too. I often spot familiar smiles at their shows. So you have been warned – once you're hooked, you will follow too.
A large part of the band's success is owed to the commanding stage presence of frontman Frank Chandek. Chandek is a recently retired city garbageman with curly black hair and a beard, wildly expressive eyes, and he knows how to work a crowd. I have often witnessed him go down into the audience and serenade people, or encourage them to sing along on the mike. If he's feeling particularly inspired, he will lay down on the ground and howl. My personal favorite was last winter during the arctic tundra. He disappeared during an instrumental, going out the front door of the bar. Did he leave? What was going on? He returned, and without explanation bared his chest, slathered fresh snow all over it and resumed singing with new passion. The crowd went wild. Stuff like that takes real hutzpah.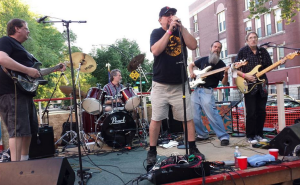 On Saturday at Kochanski's Concertina Beer Hall, Chandek donned leopard print pants and a black polo with glitter on the collar. His voice is sometimes growling and often operatic: he demands your attention. He begins the first set slightly reserved, but it doesn't take long for him to put his whole tall body into it. Chandek is at one with his tambourine, bopping it all over himself. He is not beyond shaking his booty at the crowd, either. He is daring and brave; a funny Dr. Feelgood.
There are two guitar players in Dr. Chow's: Brian Wensing is stalwart and stands on the left. Paul "Fly" Lawson, also on guitar, resembles a bespectacled Pete Townsend and chimes in with great backup vocals. Joe Polizzi is a crazyman on the bass. He hops around on stage and his beard could tell stories. Dan Glaser keeps the beat without fail on the drums. These guys are tight. They perform a medley of psychedelic 60s covers, a nice collection of danceable originals, and even do a sweet bluesy version of the "True Blood" theme song by Jace Everett, "I Wanna Do Bad Things With You." Some of Dr. Chow's personal best include "Sea Creatures," and, "My Evil Twin From a Parallel Dimension." They are fans of the old horror genre and have been known to sing about "Godzilla," and "Green Slime." Chandek also plays a mean harmonica. Each show they make up new stage names for themselves when doing the band introductions, just to keep things amusing.
The people-watching is always great at a Dr. Chow's show: it is a wonderfully weird mix of all ages couples, hippies, fellow musicians, and curious young hipsters. Everyone responds to the bad-ass antics of Frank: he jumps and shimmies. He is energetic and theatrical; a total stage performer. They have a blue light and a green light shining on the band for effect and an acid trip design waving on a screen in the background. It is always a party here and eventually everyone gives themselves over to the pagan lovefest going on. Anything goes here, anything is acceptable. There's always a little guy with a mustache that shows up and yells, "Crank that shit!" between songs. If you give Dr. Chow's Love Medicine a try, I guarantee you will leave happy. Follow their schedule on Facebook for upcoming shows.