Game day getaways
By Rachel Dimaranan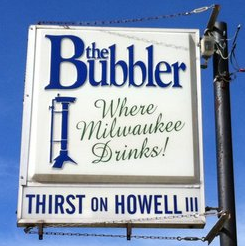 As wild and crazy as the Bradley Center can get on game days, sometimes it is nice to watch our Golden Eagles take the court from afar, perhaps at a local sports bar or restaurant. If you and your friends are looking to spice up your game day routine and add in some good food and drinks, check out some of these locations! You can enjoy the game within a short distance from campus and even save money thanks to the numerous specials offered to fans and visitors.
Major Goolsby's
340 W. Kilbourn Ave.
(414) 271-3414
As one of Milwaukee's oldest sports bars, Major Goolsby's welcomes all fanatics on game days. Specials include pitchers of domestic beer, wings and hot dogs, making this location a popular hit among anyone cheering on the Golden Eagles.
The Bubbler
3158 S. Howell Ave.
(414) 482-4941
Don't let the outside appearance fool you—The Bubbler is more than a quaint neighborhood bar.  Its drink specials, including $1 off most drinks, always leaves Marquette fans wanting to come back for more.
Replay Sports Bar
2238 N. Farewell Ave.
(414) 431-1080
Replay is no stranger to the Marquette community and they make sure to treat us well. On top of daily specials, this bar offers specific drink discounts to fans on game days. Just stop in to see for yourself!
Flannery's
425 E. Wells St.
(414) 278-8586
No one does daily specials better than Flannery's. With a new offer each day of the week, it is too bad every day is not game day. Come early to Flannery's for 39 cent wings from 5-10 p.m. on Mondays; Tuesdays offer $1 tacos and $2 taps; Thursdays bring customers in with 12-inch pizzas for only $5. Check flannerysmilwaukee.com for more specials.
Karma Bar and Grill
600 E. Ogden Ave.
(414) 220-4118
Why stop at only one happy hour per day? From 3 p.m.-7 p.m. and 10 p.m.-1 a.m., Karma offers discounted drinks and food, including $5 select appetizers, on top of daily specials. Such specials include $2 tacos and $3 margaritas on Tuesdays and $10 Miller buckets on Wednesdays.
Catch 22 Bar and Grill
770 N. Milwaukee St.
(414) 223-1031
Come catch a game at Catch 22! With over 22 televisions and daily specials, this location has worked its way onto the must-attend list. With $6 burgers on Mondays, 75 cent wings on Wednesdays, $5 rum pints on Thursdays, and $6 bloodys all day Saturdays and Sundays, why wouldn't you want to cheer on the Golden Eagles from within this great atmosphere?
In addition, the following three locations are in the making of their special deals so be on the lookout once the season gets going!
Trinity Three Irish Pubs
125 E. Juneau Ave.
(414) 278-7033
Hooligan's
2017 E. North Ave.
(414) 273-5230
Upper 90s Sports Pub
322 W. State St.
(414) 988-9372
*Upper 90s is only offering post-game specials, but this is a great way to celebrate a win and keep the fun going!
Leave a Comment