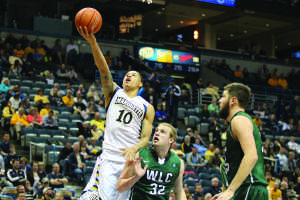 Seniors Juan Anderson and Derrick Wilson handled their media day approaches differently. Anderson sat stoically on a mat underneath the hoop in the Al McGuire Center. His dialogue was nonchalant, but his answers were thoughtful. Wilson stood on the sidelines near the bleachers, contemplating questions before he answered and correcting himself as he spoke.
The two arrived on campus from not-so-nearby places just a few short years ago. Anderson, the 6-foot-6 forward, hails from just outside of Oakland, Calif.; Wilson, the six-foot guard, from Anchorage, Alaska. Both came to Milwaukee from unusual places, and their collegiate paths have been just as peculiar.
Anderson was a four-star recruit, Wilson a three-star. Anderson drew more hype, but both played sparingly during their freshman seasons. Wilson averaged 8.8 minutes per game, Anderson just 4.5 minutes. They averaged almost identical minutes their sophomore season, but Wilson edged out Anderson with 457 total minutes played to 455.
Both were starters last year, but struggled mightily. Wilson led the team with an average of 30.8 minutes per night. Anderson started most nights at small forward, but only played around 13.5 minutes a game.
Wilson was seen as the scapegoat for Marquette's poor backcourt production. He averaged five points and shot under 40 percent from the field. Anderson's starting role was deemed laughable by some. Marquette missed the tournament and even the NIT, and Wilson and Anderson were labeled as recruiting busts.
The pair enter their final season as captains playing under a new coach. Both are coming off difficult seasons during which they assumed larger roles. They've gone from deep runs in the NCAA Tournament in their first two seasons to the sheer disappointment of not even playing postseason basketball. The head coach who recruited them fled to Virginia Tech and another member of their recruiting class, Todd Mayo, didn't want to stick it out for his senior season at Marquette.
The passage to their senior seasons have been different, but essentially the same.
A year ago, Anderson stood in a similar spot at the Al fielding questions about nearly transferring back to his native California. He said his reason for almost leaving was to play basketball closer to home.
Shortly after his announcement, he had a change of heart and decided to return to Marquette.
"I had an extended opportunity to discuss everything with my family and after those conversations we believed, along with the coaching staff, that Marquette was the best place for me to continue my career," Anderson said in May 2013.
At this year's media day, Anderson spoke about his tumultuous year.
"It's been a whirlwind, it's been up and down," Anderson said. "Coming off an Elite Eight year then not making the (NCAA) tournament or NIT was very disappointing."
Wilson was highly criticized for his offensive struggles last season while playing such a high volume of minutes. Many were calling for Wilson to get minutes off the bench, or none at all. Wilson said he noticed the criticism. He read and heard plenty of poor reviews. Wilson said those criticisms are fueling him for his senior season.
"You hear things," Wilson said. "My parents talk to me about it, but it puts a chip on your shoulder. I think that really drove me to get as much shots up as I can (this offseason) and just try to better myself so I can make the team better."
The tribulations Anderson and Wilson went through made coach Steve Wojciechowski's decision to name them captains a bit surprising. The first-year coach said he picked the duo as his captains because he knows they want to bounce back from a tough junior season and end their careers in style.
"Those guys have been a part of this program and have been good contributors and as seniors, they have a real sense of urgency to go out the right way," Wojciechowski said. "I think they've provided great leadership thus far."
Anderson said his new captaincy alters how he leads, but not how he plays.
"In terms of on the court, just being mature and bringing the energy everyday and keeping the team together and building camaraderie, yes (it will have an effect)," Anderson said. "In terms of getting 30 rebounds or 50 points, no. We have capable guys who can do that kind of stuff. My main concern is just winning basketball games."
Wilson said the biggest part of being a captain is bringing a daily effort and desire.
"I got to be an every day guy," Wilson said. "I got to show up every day, I got to play hard every day. I can't take any plays off because now that you have that label other guys are looking at you. It's a big responsibility, but I think Juan and myself can do it.
Wojciechowski isn't the only person who believes in his captains. Redshirt freshman Duane Wilson responded to critics of Wojciechowski's decision and said his coach's choice of captains was a great one.
"A lot of people were kind of upset that Derrick and Juan were the captains, but I feel like those are our two leaders of the team and if they can bring it, everybody's going to bring it," Duane Wilson said. "We move as they move."
The big question for both captains is what their role will be on the floor. It's odd for a team's captains to log few minutes, but that may be the case for Wilson. The addition of Brigham Young transfer Matt Carlino and return of Duane Wilson from injury adds more clutter to Marquette's backcourt.
A reduction in minutes likely will not be the case for Anderson, at least in the early going. Marquette is thin at the post position and Anderson could be used at all three frontcourt spots this season.
The most common and obvious characteristic of Anderson and Wilson is both have struggled to provide much offense in their first three years. How they produce offensively could dictate how many minutes they play. With an offseason program geared more toward individual skill building, Anderson and Wilson were both able to work on their shooting extensively.
"They gave us a shooting chart, so this summer I had to get up at least 2,000 shots a week," Derrick Wilson said. "You could see guys' shots improving. I'm very confident. When you put in the work, confidence comes through your work. This is the most work I've put in for any summer."
Anderson echoed that sentiment and said he feels a lot better about his shooting and even took a playful jab at his fellow captain.
"I'm shooting with a lot more confidence," Anderson said. "We shot a lot of shots this summer. Derrick shot the most."
After a largely disappointing junior season, the sense of urgency is even higher for the duo to end their Marquette careers in astounding fashion and defy their doubters along the way. How they got here might have been different, but their legacies will be intertwined.
"We all know we weren't as good as we should've been (last year)," Anderson said. "We all use that as motivation and at the end of the day we all want to get back to the tournament."
"Since I've been here I wouldn't say it was a failure, but I would say it's not where I wanted to be," Derrick Wilson said. "First year, Sweet 16, then Elite Eight. It's a big difference from going to the Elite Eight then not even making the tournament. You hear all the outside stuff. Even though it goes through one ear and out the other, you still hear it and it puts a chip on your shoulder and it just makes you want to get better."
Story continues below advertisement