McCabe to convert to apartment, Humphrey to residence hall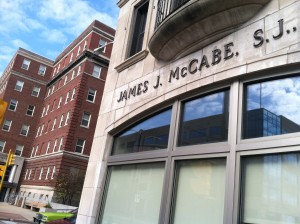 McCabe Hall will be converted into a university-owned apartment building by fall 2015, while Humphrey Hall will turn into a residence hall, an Office of Residence Life email to Humphrey residents announced Monday.
The email said the move is to accommodate a rising number of underclassmen. Residents in Humphrey were told their leases will not be extended beyond May 2015.
But for Humphrey residents like Maddie Bartot, a junior in the College of Health Sciences, it means she and her roommates have to scramble to find a place to stay next year.
"We're all pretty upset," said Bartot, who said she was planning on living in Humphrey for the next three years during her graduate career. "Had we known about this earlier, we would have started looking for affordable housing. We're way behind now."
Mary Janz, executive director of housing and residence life, said Humphrey will be available during returning student residence hall selection in March.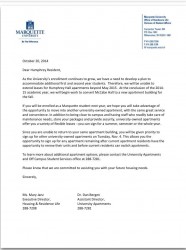 Students currently living in Humphrey Hall will be given priority to sign up for other university-owned apartments Tuesday, Nov. 4, according to the ORL email. The Humphrey resident priority will come "after current (university) apartment residents have the opportunity to renew their units and before current (university apartment) residents can switch apartments."
Humphrey currently houses many female and male upperclassman student athletes.
"I am in conversation with (the Athletic Department) now regarding housing for student athletes," Janz said. "No decision has yet to be made."
With the absence of Humphrey, the university-owned apartments include Campus Town East, Campus Town West, the Gilman Building, the Frenn Building and soon McCabe. Leases for university apartments can be signed for a summer, semester or full academic year. Deposit collection for university apartments is open and will end Oct. 31.
The decision to change Humphrey into a dorm comes after McCormick Hall, which exclusively houses freshman, was overbooked this spring following an unexpected influx of sophomore transfer students. The university placed students in temporary rooms, made from lounge areas from each floor.
This year's freshman class had a total headcount of 1,989 students, up from 1,928 in 2010, according to the Office of Institutional Research and Analysis. The freshman count peaked in 2011, with 2,056 students.
Leave a Comment