Golden Eagles shipwreck Pirates in bounceback win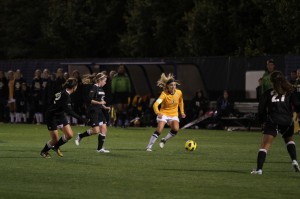 The Marquette women's soccer team bounced back from its 4-0 loss at Georgetown with a sound 3-0 drumming of Seton Hall at Valley Fields Thursday night.
The Golden Eagles (8-6-2) came out the gate slowly, not having its usual constant possession. But once Marquette got into rhythm, the Pirates couldn't muster any answer to the Golden Eagle offense.
Marquette put up nine shots on net in the first half alone, and managed to get off 21 shots on goal total, one of the highest marks of the season. The Golden Eagles also had 10 corners on the night, eight of which came in the first half alone. Those set pieces need up paying dividends for Marquette.
Sophomore midfielder Morgan Proffitt got Marquette on the board in the 21st minute when the Golden Eagles got a free kick. Senior midfielder Mary Luba crossed the ball into the box, and Proffitt headed the ball on net. Pirate keeper Illissa Blackshear made the save, but the rebound went directly back to Heffron, who put it into the back of the net for the 1-0 Marquette lead.
Nearing the end of the first half, sophomore midfielder Erin Holland added some insurance for the Golden Eagles. Senior midfielder Alex Heffron crossed a ball into the box, which sailed over everyone's heads directly to Holland, standing on the far post. Holland headed the ball into the empty net to give Marquette the 2-0 lead. The Golden Eagles would carry the momentum into the half, nearly notching a third after three consecutive corners in the waining seconds of the half.
Despite the 15 minute break, the Golden Eagles came out with the same intensity as the first, and Seton Hall continued to struggle. Five minutes into the second half, sophomore midfielder Darian Powell notched her fourth goal of the season when she lifted Holland's corner into the top-right corner from point blank range. The goal gave the Golden Eagles a 3-0 lead with the majority of the half to go.
With the 3-0 lead, coach Markus Roeders was able to give some of his younger bench players some playing time. The Golden Eagles continued to control the game and not allow Seton Hall to get any quality chances. When the buzzer sounded, Marquette got a much needed victory.
Marquette welcomes undefeated DePaul to Valley Fields Sunday night for Senior Night. Kickoff between the rivals is at 6 p.m.
Leave a Comment