Loss of Levin could impact 2015 recruiting class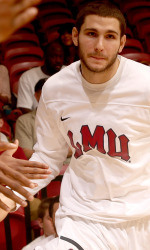 Despite never logging a minute in a Marquette uniform, sophomore transfer Gabe Levin's departure from the university could have a significant impact on the program going forward.
Levin announced Wednesday afternoon he would be leaving Marquette just five months after deciding to come to Marquette from Loyola-Marymount. The 6'7" forward was going to redshirt the entire 2014-15 season due to NCAA transfer rules.
"We wish Gabe nothing but the best as he pursues other opportunities to continue his career," head coach Steve Wojciechowski said in a press release.
Levin averaged 11.1 points and 7.1 rebounds in just under 32 minutes per game in his first season with the Lions, but his future role with the team was relatively unknown as the team would have six forwards slated to be on the 2015-16 roster.
Levin's absence leaves another scholarship opening for the 2015-16 roster. Marquette already has three incoming recruits to replace graduating seniors Derrick Wilson, Juan Anderson and graduate student Matt Carlino, but Levin's scholarship opens up another potential player for Wojciechowski to target in recruiting.
Marquette has 11 scholarship players on the 2015-16 roster with two scholarships remaining. The Golden Eagles are one of the three remaining schools in the running for Rice Lake, Wisc. forward Henry Ellenson, who is the fourth-ranked recruit in the country, according to ESPN.com. If Ellenson commits to either Michigan State or Kentucky, Wojciechowski will have more contingency options with the extra scholarship.
Henry's brother, Wally, transferred to Marquette last July and could be a major bargaining chip in his brother's sweepstakes. Landing Henry would be the pinnacle signing of a relatively strong recruiting class that includes four-star point guard Nick Noskowiak, four-star shooting guard Haanif Cheatham and four-star center Matt Heldt.
Marquette is also in consideration for another five-star recruit, small forward Jaylen Brown, as well as four-star guard Marcus LoVett Jr.
The loss of Levin is not ideal in the short-term, but Wojciechowski could capitalize on the extra scholarship by landing a top recruit like Henry Ellenson and adding another piece to the roster via recruiting or a transfer. Wojciechowski is excelling in both means of player acquisition early in his tenure. He only kept one recruit, Sandy Cohen III, from Buzz Williams' recruiting class, but he supplemented his roster with transfers Wally Ellenson and Carlino, while quickly putting together an already-respectable recruiting class.
Levin's departure will not be a loss on the court this season, but it could pay big dividends in the recruiting landscape as Wojciechowski attempts to build a program-changing recruiting class.
Leave a Comment