Club hockey takes short road trip to Northwestern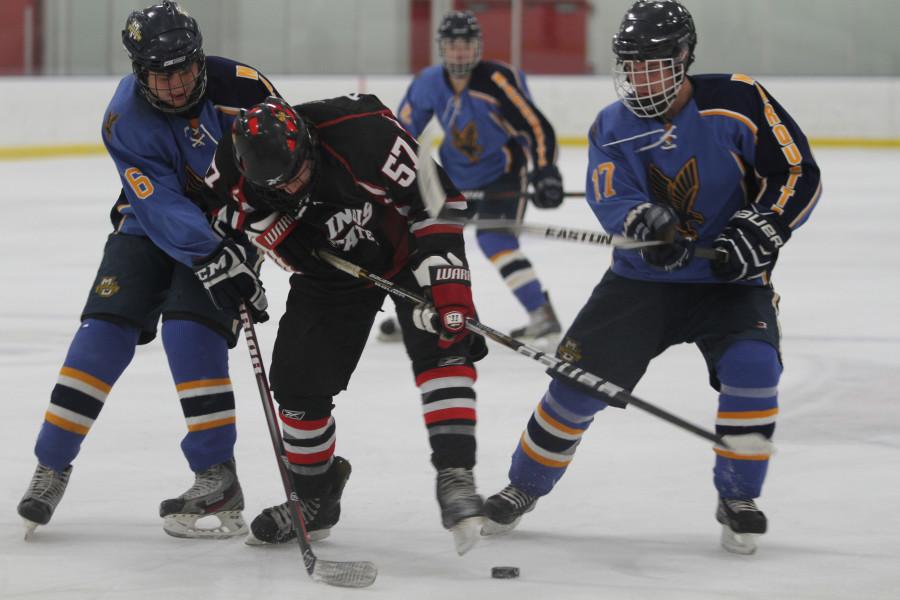 Sterling Silver
October 9, 2014
After sweeping Illinois State the previous weekend, Marquette faces Northwestern for two games in Evanston, Ill. The Golden Eagles (7-2-1) will use the momentum from the sweep over the Redbirds to prepare for the series ahead.
Head coach Will Jurgensen made it a point to increase the physicality of Monday's practice after a wavering level of aggressiveness during their last home stand.
"Monday was a tough practice, meaning a lot of skating and a lot of shooting, working with the goalies a lot to create high pressure situations we are going to see throughout the season," Jurgensen said. "We worked on a lot of battle drills to increase physicality, and more than anything, we tried to keep an upbeat pace to the entire practice in order to mirror a 60-minute hockey game."
Wednesday's preparation focused more on turnovers in the Marquette defensive zone. The Golden Eagles gave up two easy goals after miscommunication plays against the Redhawks, something they cannot allow against more challenging competition.
"Wednesday's practice will focus much more on our systems and full ice situations which always occur during the game," Jurgensen said. "Some focal points for us that need improvement include first and foremost, our defensive turnovers need to be cut down. Other than that we will be working on set plays and system stuff to get prepared for Northwestern."
As for the team's opponent, Northwestern is coming from a weekend trip Nashville trip, during which the team went 2-1 in the Scholar Shootout Tournament, hosted by Vanderbilt University. The Wildcats (3-3-0) played difficult foes in Wake Forest, Georgia Tech and Florida, scoring 14 goals during the weekend.
Senior center Rick Gattone and junior center Daniel Loizzo are the biggest threats for the Golden Eagles. Gattone is coming off a tournament game against Wake Forest where he finished with a hat trick. Combined with Loizzo, the duo have eight goals in nine games, something the Golden Eagle defensemen will have to focus on.
Despite the Wildcats' talent, Jurgensen said he believes the games should be competitive due to a predictably large Marquette fan contingent. Northwestern is only an hour and a half away from Milwaukee and Marquette has ten players from the Chicago area, which could create a favorable atmosphere for the Golden Eagles.
"What is especially great about Northwestern is that a large portion of our team call Chicagoland home," Jurgensen said. "We have always had a large Marquette fan section whenever we play in the Chicago area and I expect this weekend to be no different."
Following the trip to Evanston, Marquette will continue on its road trip during fall break, playing at Missouri State Oct. 16 and Arkansas Oct. 17-18. The Golden Eagles then return home Oct. 24 to play Northern Illinois.