5 rock and roll musicians to follow on Twitter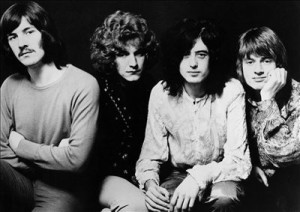 1.)   Led Zeppelin – @ledzeppelin
Led Zeppelin is arguably the greatest assembly of musicians to ever be heard. Combining the brute, passionate magnetism of front man Robert Plant, with the serene, yet demanding instrumentalist work of guitarist Jimmy Page, Led Zeppelin has been an inspiration to countless musicians around the world. Their lyrics are as emotionally profound as their music, and their music reciprocates by being as purely intelligible as their lyrics. While the band has long since been dismembered, their Twitter page constantly shares digitally remastered versions of each of their timeless songs.
2.)   Red Hot Chili Peppers – @ChiliPeppers
The Red Hot Chili Peppers may not have been the first group to incorporate the genre of funk into rock and roll, but it has been the most successful, effectively bridging the gap between the era of vintage rock and today's popular music. Thriving in the '90s, it released sensational albums like "Califonication," "By the Way" and "Stadium Arcadium" during a time where rock and roll music was experiencing its largest lull yet, shouldering the dying genre through the 2000s. Keep up with all of their exploits, including upcoming concerts, new releases and more.
3.)   Matchbox Twenty – @MatchboxTwenty
Whereas Led Zeppelin and the Red Hot Chili Peppers thrive on musicianship, Matchbox Twenty is unequivocally based on singer/songwriter Rob Thomas. The group's instrumentalism is not as complex as the previous two, but Matchbox Twenty's songs compliment Thomas' raspy, rugged voice in a well-received way. Shortly after releasing hit songs such as "3 am," "Push" and "Bent," Thomas was inducted into the Songwriter's Hall of Fame. Its Twitter page includes a variety of content, from backstage photos to iconic lyrics of their songs quoted daily.
4.)   U2 – @U2
For a group to remain exceptionally prevalent from the 1980s up through the 2010s is a remarkable feat, but U2 makes it look routine. Time and time again, U2 captivates music lovers with innovative and melodic music. Their lyrics depict sociopolitical themes as well as emotional distresses, and their music in general is indisputably one of the most successful forms of punk rock in the history of the genre. To hear its new, critically-acclaimed album, "Songs of Innocence," and get notifications about upcoming shows, check out this group's active Twitter page.
5.)   Jimi Hendrix – @JimiHendrix
The reason Jimi Hendrix is considered one of the best guitarist of all time is not because he was the fastest guitar player or because he excelled at comprehending music theory above any other guitarist. Rather, his style and sound were so unbelievably innovative that he simply became known as the best. Although Hendrix lived a tragically short life, his music lives on through tribute concerts which feature some of the most talented guitar players still alive. Get information on tribute concerts as well as vintage photographs and recordings of Hendrix himself on his page.