Women's soccer ties St. John's, still best in Big East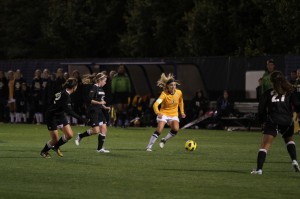 The Marquette women's soccer team battled St. John's in an early test to see which is the best team in the Big East. After 110 minutes, neither side could best the other, as the scoreboard read 1-1 at the final whistle.
The Golden Eagles were the first on the board when they got a shot past St. John's keeper Diana Poulin. Junior midfielder Meegan Johnston found Mary Luba and sent her a pass, which Luba headed it in past Poulin. Luba's goal in the 37th minute snapped Poulin's 330-minute shutout streak.
The Red Storm answered Marquette in the 68th minute. With a corner kick, St. John's put the ball into the box, where Marquette keeper Amanda Engel came out to try to punch the ball away. Engel undershot it, and the ball ricocheted off a marquette defender right to St. John's midfielder Jesse Schaefer. Schafer volleyed the ball into the bottom left corner for her first career goal to tie the game up at 1.
Engel was tested again in the 85th minute. Junior Rachel Daly got the ball and went in on Engel on a breakaway and booted a great shot to the right side. Engel dove and managed to knock the ball away to preserve the tie.
The two sides headed to extra time, where St. John's controlled most of the play. But the Golden Eagle defense stood strong, and the game ended in a tie.
With the tie, Marquette moved to 10-0-1 all-time against the Red Storm. The Golden Eagles will travel back to Milwaukee to take on Xavier Sunday afternoon at 1 p.m.
Leave a Comment