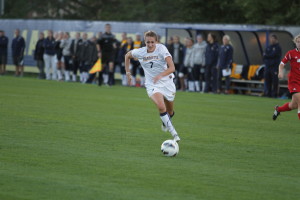 The Marquette women's soccer team won its fourth-straight game, defeating the Villanova Wildcats 1-0.
The Golden Eagles (6-5-1) got its only score of the game on a fantastic individual effort from sophomore midfielder Liz Bartels. Bartels received a pass from freshman Eli Beard outside the left side of the box, and carried the ball in. After making a move past a defender, Bartels ripped a shot that went over the leaping Villanova keeper, bouncing off the bottom part of the crossbar and into the back of the net.
Coach Markus Roeders said the goal was an important part to setting the tone against Villanova.
"(Bartels) put us ahead on a really nice finish," Roeders said.
Bartels's goal was part of a controlling first half and an overall dominating game for the Golden Eagles. While the score was 1-0, the game was much more in favor of Marquette than Villanova.
In the first half, the Golden Eagles registered 13 of the games 14 shots. By the end of the game, Marquette had a 18-4 shot advantage over the Wildcats, and three of Villanova's shots came in the last 15 minutes of the game. Marquette controlled possession for the entire game, and spent vastly more time in the attacking zone rather than the defending zone.
Bartels said possession is a big aspect of the Golden Eagles' game plan.
"Out team prides itself on being possession orientated and bringing our game onto the opponent," Bartels said. "I think we did a really good job with that."
Roeders added that possession really helps kickstart the offense.
"Possession allows you to build your attack, and out of that you get opportunities," Roeders said. "You know what they say, attacking is the best defense."
Even thought it faced little shots, the Golden Eagle back line continued to play great defense. The Wildcats could not get extended possession inside the attacking zone. In the offensive zone, the defense kept the ball in play and helped establish the Marquette attack.
Roeders said it was another strong showing by the Marquette defense.
"Our back four and goalkeeping, overall, I think is more sound," Roeders said. "We're allowing fewer chances."
The victory keeps Marquette perfect in Big East play, and has the team above .500 for the first time since its victory against Loyola-Chicago in the season opener.
Marquette travels to St. John's for its first road game of the Big East season. Kick off is at 6 p.m. local time.