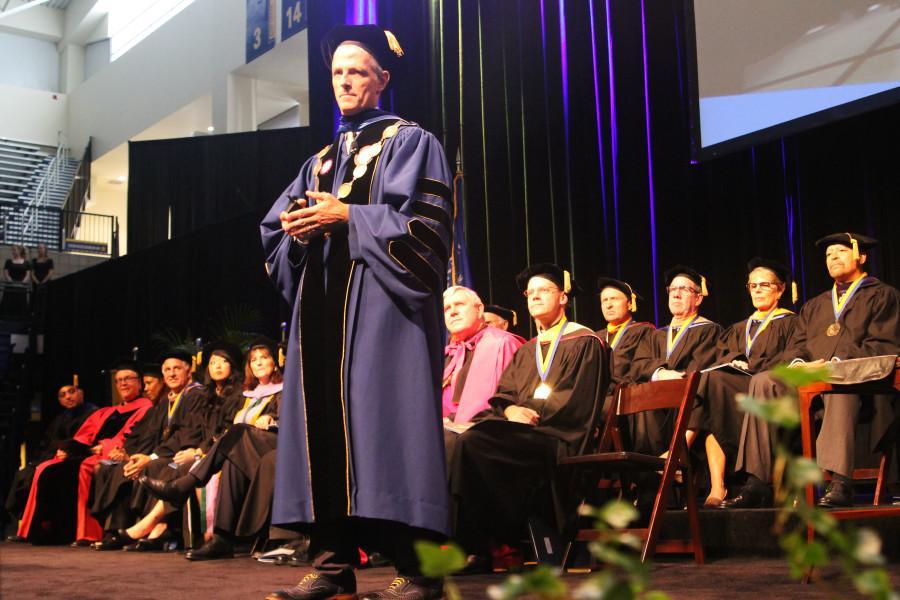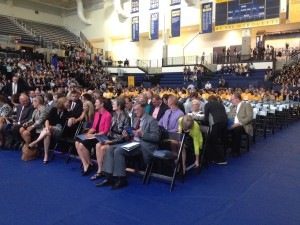 University President Michael Lovell's inauguration was not all just pomp and circumstance — it was his chance to unveil his first few initiatives at the university.
Lovell announced five new expansion strategies near the end of his address for the coming months, starting with a Center for Advancement of the Humanities, which immediately was met with a standing applause.
The multimillion dollar donation from an unnamed contributor, he said, will help establish Marquette as a leading humanities institution in the Midwest.
Lovell also announced Marquette purchased a 7.5-acre tract of land in the 800 block of W. Michigan St. The first lay president for the university called the land deal a "once in a lifetime opportunity" for both the university and the city of Milwaukee. Lovell announced the university would be closing on the property by the end of the month.
Lovell said the university does not have any specific plans on what to do with the land yet, but the university will explore its options.
Lovell also said there would be a $5 million strategic innovation fund, which he described as being akin to a venture capital fund that would provide seed money to students, beginning in July 2015.
Other plans announced included the university moving into the sixth floor of the Global Water Center in the Fifth Ward, joining water-related companies and other universities at the research facility. The center is used for industry research and development.
Lovell said Marquette is exploring options for a presence at the Innovation Campus in Wauwatosa, a research park he praised while Chancellor at the University of Wisconsin- Milwaukee. Marquette will also launch a bioengineering department with the Medical College of Wisconsin.
In addition, Lovell announced a partnership with the university's surrounding neighborhood, called Avenues West. Lovell said he and Harley-Davidson CEO Keith Wandell will partner with other "neighborhood anchor institutions" in a safety initiative in the neighborhood. The goal is to make Avenues West a destination for visitors coming to Milwaukee.
Safety is a key concern on campus, and Lovell said the partnership will enhance safety on campus.
The Department of Public Safety sent five public safety alerts to students since the week before classes started. In the past week, two thefts from motor vehicles, five reports of battery, five reports of theft and one report of robbery according to DPS's daily log.
Legislation signed into law last spring gave permission to Marquette to create its own police department. Private university officers would have the same powers as Milwaukee Police Department officers to enforce the law, as well as codes defined in Marquette's code of conduct.
At his inauguration, Lovell was welcomed by several dignitaries, including Gov. Scott Walker and Archbishop Jerome Listecki.
Listecki said Lovell's profession as an engineer puts him in a unique place to lead the university.
"Being an engineer, I know you'll work hard to build your house on a firm foundation," Listecki said.
Walker, a father of a current Marquette student, applauded Lovell for putting students first. Walker said Lovell "lives a life of faith that is steady and profound."