Volleyball goes 1-1 in first day of Marquette Invitational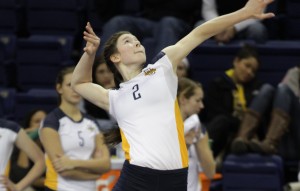 Hang on for a minute...we're trying to find some more stories you might like.
The Marquette women's volleyball team completely dominated James Madison early Friday, but by the evening, had run out of gas and lost a brutal match to Rice in four sets.
Marquette opened the tournament with a resounding sweep of James Madison. The closest set was the final 25-17 frame, and the Golden Eagles more than doubled the Dukes in the opening two (25-12, 25-9).
Coach Ryan Theis' front line was dominant all match long, as it outhit James Madison .327 to .038 and outblocked them nine to six.
Sophomore outside hitter Nele Barber led the team with 12 kills at a .321 clip, and redshirt sophomore middle hiteer Meghan Niemann picked her spots en route to nine at .615. The setters, redshirt sophomore Mary Nilles and freshman Gabby Benda, split 37 assists 20 and 17, respectively. Sophomore libero Lauren Houg had 17 digs to lead the Golden Eagles.
Stymied all game long, James Madison did not have a player record for than six kills (senior middle blocker Lizzy Briones). The Dukes also had three hitters hit negative in the contest.
Marquette got off to a slow start against Rice, dropping the opening frame 25-19 behind extremely poor offensive numbers. The Golden Eagles hit -.023 in the first set, with only Barber hitting above .000. The team also racked up an absurd five service errors in the set, with all of them coming from a different server.
The second set began the same way first ended. Rice jumped ahead 6-1 and forced Theis to call timeout extremely early on. The trend continued, as the Golden Eagles made errors and were overpowered by the Rice attack. The Owls won the set 25-19 again, this time leading wire-to-wire, with Leah Mikesky adding five kills to her total.
Marquette came to life in the third set and buried Rice with a huge run midway through the frame. The Owls fought back, but Autumn Bailey's seven kills and a .293 team hitting percentage put the Golden Eagles over the top, 25-20.
Rice finished Marquette in the fourth set with an overpowering offensive attack. The Owls completed the upset with a 25-15 victory.
The Golden Eagles finish up the Marquette Invitational Saturday with matches against Green Bay and Texas San-Antonio.