Solid Cedar Rocks Renee Row
Hang on for a minute...we're trying to find some more stories you might like.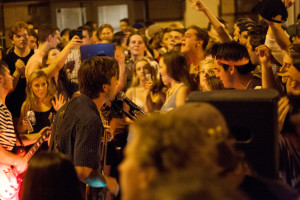 On Labor Day weekend, Renee Row's courtyard was booming with students as rock band Solid Cedar set up last minute on Aug. 31 to showcase their talents to fellow students.
Solid Cedar is comprised of Bobby Helf, a senior in the College of Engineering, and J.T. Gylland, a senior at University of Wisconsin-Whitewater. The small band's history dates back to when Gylland and Helf began playing together in sixth grade. Gylland performs guitar/vocals, and Bobby is on the drums. The duo named their first band Split Decision and played small shows and festivals throughout grade school and high school. As soon as they graduated high school, the band split off for college.
When Gylland arrived at Whitewater, he met his new neighbor (and soon-to-be newest band member), music major and bass player Phil Bregant. He introduced Phil to Bobby, and the three formed a new group, "The Bobby Helf Band" (TBHB).
Throughout the school year, TBHB found it hard to get together to play shows or even practice on occasion, but focused on spending their limited time together to fine-tune their musical chemistry.
"That part of our time as a band was about growing into our music," Bobby says. "It taught us how to put on a good show and create our band's chemistry."
As band chemistry grew stronger, Bobby and J.T. learned to "read" each other during shows to know when to breakdown a song, when to allow each other solos or when to change the genre of a song they were playing. Phil came in clutch with his multi-instrumental talents by contributing trumpet, harmonica or harmony to J.T. and Bobby's talents. However, they were missing a solid essential — a bassist.
For a short time, Helf's high school friend, Nik Ingrassia, picked up the bass for TBHB, but soon became unavailable. Luckily, Phil worked at a nearby Guitar Center and suggested that a coworker, Ryan Moran, take the vacant spot.
According to Helf, Moran had the rest of the band at "hello." The new member's bass skills were perfect for TBHB's garage-rock vibe. As they played together more and more, they established their genre and decided on a name change. From then on, the band was known as Solid Cedar, derived from the band's hometown of Cedarburg, Wisconsin.
Solid Cedar has played shows in all types of venues across the state. From local bars to Summerfest to charities to Renee Row, the band has always taken advantage of any opportunity to perform.
"We just go out there to just have fun with it," Bobby explains. "We're pretty lucky because everywhere we go to play, we usually get an offer to play somewhere else right after."
A few of the band's favorite places they have played were the Harley Davidson 110th Anniversary and the local bar in Helf and Gylland's hometown of Cedarburg. They have never recorded an album and dedicate most of their time together to playing live shows. The band has one original song, "Life Ain't Free," which serves as its own jazzy anthem. Beyond their unique tune, Solid Cedar plays covers of songs from the 60's, including hits from the Beatles or Led Zeppelin. They also enjoy performing more modern music by Daft Punk or Blink 182. When playing a show, the band usually picks the music they play to fit the audience.
Some of the band's favorites to crank out are Tom Petty's hits and "Get Lucky" by Daft Punk. They love to enjoy their own music with their audience singing right along. Solid Cedar almost always selects Lynyrd Skynyrd's crowd-pleasing "Free Bird."
What better way to arrange a set list than with a beer in your hand surrounded by your close friends? Solid Cedar often takes a laid-back approach to arranging their set lists and preparing for shows.
"We're pretty comfortable with what we do," Helf said.
This past Labor Day weekend, this set-up-and-go mentality was obvious as the band decided the morning of Aug. 31 to meet at 8 p.m. at Renee Row and begin playing at 10 p.m. According to Helf, by the time they concluded their songs around midnight, over 500 people had shown up to Renee Row's courtyard to enjoy their music.
"It was the first chance I had to play with my band in front of my friends, and I told myself, 'There's no way I'm not doing this,'" Bobby said.
Solid Cedar's enthusiasm, perfect throwback song choices and impressive live talent attracted many Marquette students to their impromptu venue. Many might wonder what's next for the semi-secret local band. Bobby spends his off time as the president of Marquette's club soccer team, and finishing out his degree in mechanical engineering. Over at UW-Whitewater, J.T. plays ultimate frisbee and studies business. As a music major, Phil participates in multiple side-bands, performing in Foo Fighters cover projects and working on advancing his cello skills. Ryan is still holding down the fort at Guitar Center.
Since members of the band are either full-time students or full-time workers, Solid Cedar has little time throughout the school year to practice or record their music. This year, though, they have a goal to create more original songs and hopefully have the recording process in motion by summer 2015. Even though they are busy, you may be able to catch these musicians in action at an upcoming MUSG "Unplugged" event or a spring charity show.
Hopefully, Marquette will be fortunate enough to have Solid Cedar play again for students. The band's enthusiastic and free-spirited vibe is sure to bring them future success, both live and on record.
 Read the October Journal issue here