BARBATO: Scholl hiring final piece of transitional puzzle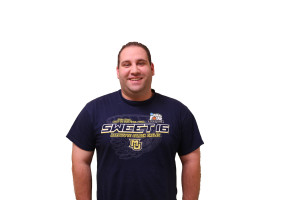 Instability, the nervous feeling of not knowing where things are heading, how long it will take and how to get there, is a daunting concept. Starting last December, Marquette's athletic program was the epitome of instability.
It began when Athletic Director Larry Williams bolted after only two years on the job. It continued through a tumultuous season for both the men's and women's basketball teams until the bottom fell out. Buzz Williams flew the coop to Virginia Tech Mar. 21 and Terri Mitchell followed suit when she left Marquette weeks later after 18 seasons.
Marquette athletics was in a free-fall. But when the university hired former Ball State athletic director Bill Scholl to the same position, the floor moved back under the department's feet.
A lot of credit should be given to Interim Athletic Director Bill Cords, who came out of retirement to help get the athletic department back on track. Cords and his committee filled in the missing pieces with two coaches who give plenty of hope for the future and an athletic director who has enough pedigree to help each program reach new heights.
The first piece, and arguably the biggest, was put in place when the school hired Duke assistant coach Steve Wojciechowski. Many regarded Wojciechowski as the coach-in-waiting for the Blue Devils, but he has already stepped out of his mentor Mike Krzyzewski's shadow at his new home.
Wojo only kept one recruit from Williams' 2014 class, Sandy Cohen, but brought in transfers Matt Carlino, Wally Ellenson and Gabe Levin to help bolster his roster. He's already signed several four-star recruits in the 2015 class and has the program in contention to win the Henry Ellenson sweepstakes.
The roster may be young, under-sized and inexperienced, but Wojciechowski has the program in a much better state than it was in last March.
Cords made another splash on the women's side, bringing in former Golden Eagle guard Carolyn Kieger. After six seasons as an assistant with the Miami Hurricanes, Kieger will return home to replace the coach she played for from 2002-05.
The women's team graduated stars Katherine Plouffe and Katie Young, and lost Brooklyn Pumroy and Ashley Santos, who followed former Marquette assistant Tyler Summit to Lousiana Tech. But Kieger brought an ounce of swagger to a program desperately needing a jolt and promised to take her team to "new places," with championships mentioned.
Kieger's team also represented the program well overseas, when it traveled Europe to face opponents from France and the Netherlands. The team went 1-3 abroad, but competed well throughout most of the trip.
Kieger brings a hectic style for teams to play against, as she said she plans to use a rapid, transition offense, similar to the system Wojciechowski hopes to implement.
Some may underestimate Ball State as an athletic powerhouse, but most of Scholl's experience comes from his 23 years at Notre Dame, where he rose through the ranks to reach the status of deputy athletic director for the Fighting Irish. He oversaw the operations of the football team, men's basketball team, baseball team and men's soccer team, four of the biggest programs at the university.
Scholl's experience as an athletic director may only be two years, but looking at his entire body of work, he is an accomplished veteran. Marquette now has two new head coaches in Wojciechowski and Kieger who are hungry to build a name for themselves and an athletic director who can provide the tools to enable long-standing success.
Not to be lost in the mix is the men's and women's soccer teams, along with the volleyball team. During the change of leadership, both the men's and women's soccer teams have managed to stay competitive. Cords was also instrumental in bringing Ryan Theis as the head coach of volleyball after Bond Shymansky headed back to his alma mater Iowa. All three programs are going to benefit from having stable, quality leadership in the athletic director role.
The pieces are in place, the transition is over and stability has been restored.